The Must-Eat Food of Wisconsin
---
By Eric Olesen - 3rd generation owner
Monday, June 22, 2020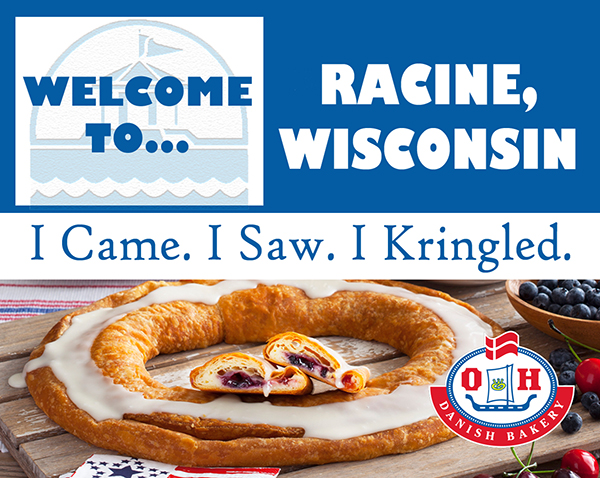 The beauty of Wisconsin is that we do certainly love our food and drink. Cheese, beer, brats and more - eating and drinking is central to pretty much every get-together that we attend. We could probably dedicate at least three full articles to state food and even more to the drink (Hello Beer and Brandy Old Fashioned!), but we'll try to summarize. So whether you come to the state of Wisconsin for the fun attractions or the food itself, you can't pass through without tasting our world-famous Kringle pastry. Filled with rich, decadent flavors and bursting with history, you will quickly discover why people all over the world rave about this buttery Danish treat. As you plan your trip around Wisconsin, noting down must-see adventurous water parks, interesting museums and beautiful nature stops, be sure to add the town of Racine to your list. It is here that you will find O&H Bakery and our authentic scratch-made Kringle - one of the best must-eat foods of Wisconsin.
What is Wisconsin State Food?
If your adventures have made you hungry and you're wondering 'what should I buy in Wisconsin?' our natural answer, of course, is our delicious official state pastry. The Kringle was crowned with the official title in June 2013 in recognition of the long-standing Danish-American culture. In the 1840s Danes began immigrating to America in search of a better life and brought with them from Old Denmark authentic recipes and traditional methods. Armed with their homeland's knowledge and skills, an increase in Kringle production began and Racine, Wisconsin quickly became the most Danish city in America.
At O&H Bakery, we scratch make our decadent Kringle using authentic recipes and techniques passed down through the generations. We believe that patience is a virtue and great things are worth the wait, which is why we make our pastry dough over three consecutive days. Our talented bakers gently roll butter into the yeast-laden dough layers then let it rest overnight. This method ensures that our Kringle pastry is decadent, light, flaky and tender.
The Kringle was traditionally shaped into a pretzel style pastry with a limited selection of fillings. However, as the demand grew for delicious new flavors, an oval-shaped Kringle was produced, which we pack full of our homemade fillings. From almond and apple to cherry, cinnamon, blueberry and more, we have an array of mouthwatering Kringle fillings that we continuously add to throughout the year.
What Food is Wisconsin Known for?
While a Kringle should be at the top of your list of food to eat when in Wisconsin, the state is also famous for a variety of other foods including:
Cheese curds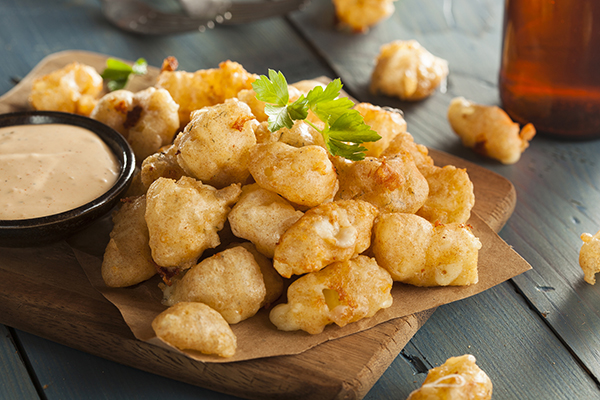 A delicacy of Wisconsin, the cheese curd is a gooey, salty, and delicious snack. You can have them two ways, freshly battered and deep-fried, which goes perfectly with a cold microbrew or fresh. Just make sure the fresh ones, squeak when you bite into them - it's a symbol of freshness! While cheddar cheese curds are the most common flavor, a mix of different cheeses also makes for an exciting twist on this yummy snack. And when you're in Wisconsin, there are lots and lots of varieties of cheese. So get ready to enjoy award winning versions from America's Dairyland!
Beer brats
Sausages are famous across Wisconsin where they are widely produced and consumed. Yet, the beer brat is more than just a sausage. As a summer favorite in our state, you will be amazed at a grilled bratwurst's goodness when it has been soaked in a flavorsome beer and onion sauce. Just save some local beer to wash it down!
Butter burgers
Once you've tasted a butter burger, every other hamburger will dim in comparison. Living in America's 'dairy-land', it's no surprise that Wisconsinites also love to showcase butter and what better way than by melting some over a grilled beef patty and pairing it with cheese between some toasted buns. The drip of the melted butter as you bite into the burger only adds to the experience of sampling this famous Wisconsin food.
Frozen custard
Another dairy favorite is the delicious frozen custard. Not to be confused with ice-cream, the frozen custard is thicker and creamier thanks to the addition of egg yolks to the cream and sugar mixture. This dessert makes for a delightful treat on a hot day.
Cream Puffs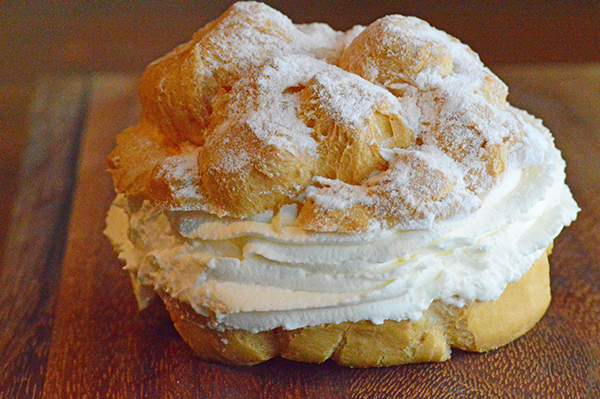 Every year in early August, thousands of Wisconsinites descend on the Wisconsin State Fair in Milwaukee. Probably more than anything else, this is a haven for food lovers, eating their way from booth to booth at this large festivity. Nothing quite captures the attention of patrons, like the Wisconsin Cream Puff. Outer pastry shells are baked golden, then generously filled with cool and smooth Wisconsin cream then dusted with powdered sugar. During the eight days of the fair, over 400,000 cream puffs are delightfully devoured.
What Fruit is Wisconsin Known for?
We are lucky enough to have some of the most delicious fruit grown here in Wisconsin including cranberries and the famous Door County Montmorency cherries. We craft our homemade Kringle fillings using the finest ingredients, and as cranberries are Wisconsin's official state fruit, when the cranberry harvest arrives in the fall, we make sure to highlight it's delicious tart flavor in our decadent Cranberry Kringle. We top off this seasonal pastry treat with our sweet, creamy icing for the perfect balance of taste.
Door County is the fourth-largest producer of cherries in the nation, and you can understand why when you taste this mouthwatering juicy fruit. Our Cherry Kringle is the perfect sweet delight to get your red fruit fix or devour two of Wisconsin's best flavors in one delightful pastry with our Cherry Cheese Kringle. This decadent pastry is an impeccable blend of velvety smooth Wisconsin cream cheese and juicy cherries.
Visit O&H Danish Bakery for a Famous Wisconsin Kringle
When your sweet craving strikes and you think 'what is the most popular dessert in Wisconsin?' remember the Kringle. Our scratch-made fillings, combined with traditionally crafted rich, flaky pastry make our Kringles the perfect treat any time of the day. So, on your travels around or through Wisconsin be sure to stop off at one of our bakeries in Racine for a flavorsome Kringle treat. You will not be disappointed.