5 Great Danish Cakes for your next catered event
Monday, July 8, 2019 by Eric Olesen - 3rd generation owner
When it comes to catering a large event or small intimate party, ensuring that you have the perfect sweet treat to enjoy after the main meal is almost just as important as the reason for the gathering itself. With our delicious Danish delights, we guarantee that your guests will be left satisfied and your event will be one to remember. Our mouthwatering cakes are the perfect complement to a hot cup of coffee or as a luscious dessert after a three-course meal. No matter what type of occasion you are planning, O&H Bakery pastries, brownies and cakes are exactly what you need.
Danish Cakes for Any Occasion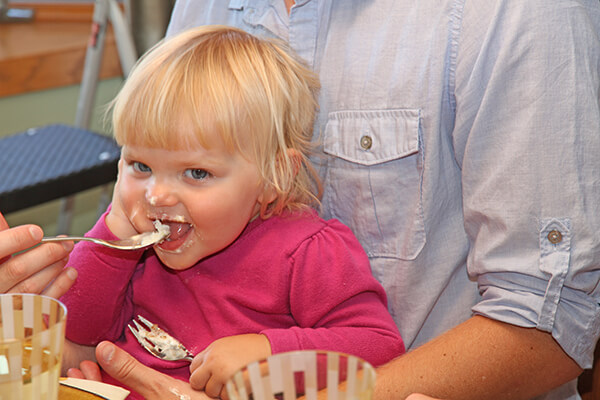 Our bakery has a wide selection of tasty, handmade cakes that are ideal for any occasion including 4th of July celebrations, birthday parties, work events, holiday parties or family gatherings. Our talented bakers take our traditional family recipes and create premium mouthwatering cakes from, delicious coffee cakes to our beautifully presented layer cakes that are made with smooth frosting on the outside to the moist and delicious soft cake layers Regardless of your favorite flavor or texture of sweet treat, we have one to suit all occasions.
Danish Crown Cakes: Velvety cinnamon swirled with walnut, premium chocolate, smooth almond or rum and spice. You will make your guests feel like royalty with these types of Danish Crown cakes. Based on mystery and royalty from our home country of Denmark, we use a secret family recipe which creates the perfect blend of a soft and moist cake that is filled with Danish-inspired flavors. Great by themselves or with a side of fresh fruit or ice cream, these cakes are exquisitely balanced to satisfy any taste.
History of O&H Bakery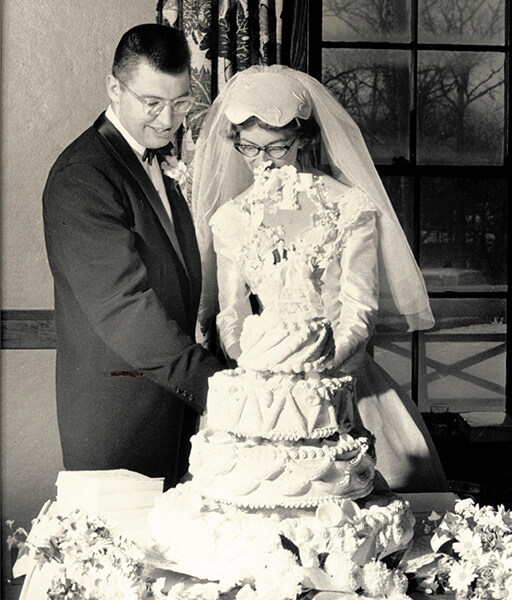 We have been serving Danish pastries and baked goods in the Racine, Wisconsin area since 1949.
Our Grandfather, Christian Olesen, opened the first O&H Bakery after 25 years of mastering the trade, starting when he was a teenage boy. He began the business by relying on his Danish heritage, hands-on bakery training and traditional recipes to make delicious pastries from scratch.
Once the first bakery was well established, Christian's son, Ray, took over the family business and, along with his wife Myrna, expanded the popular store. During his ownership, Ray and his sons moved the bakery to larger premises in 1972 and then opened a second store which allowed customers from all around Racine to have better access to O&H Bakery's scrumptious Danish pastries and cakes. Ray began sharing his delicious creations across the country in the late 1960's, originally shipping our Kringle in old shirt boxes to protect them for the journey.
Now in its fourth generation of family ownership, our Danish bakery has continued to stick to its Viking roots and passion for quality scratch-baked pastries. This baking technique continues to be used today with our baked goods, including our famous Kringle. Although over time it has changed shape from the traditional pretzel form to an oval, the Kringle still boasts the succulent, flaky, light pastry which we still make using the traditional methods you would find in Old Denmark. And there is a real bonus to this uniquely Racine style Kringle started in the 1950s - it means you get more delicious homemade filling in each bite!
O&H Danish Bakeries in Racine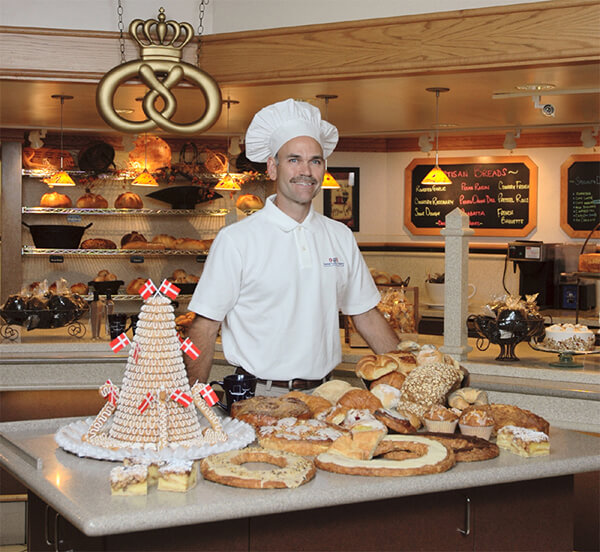 We have more than one of our famous bakeries in Racine, meaning that there is a store near you. Only an hour and a half north of Chicago and a thirty-minute drive from Milwaukee, visiting our bakery and sampling our tasty pastries and baked goods is easy. However, we like to make it effortless for you to cater your event with sweet desserts, which is why we will deliver your selected cake fresh, right to your door.
We ensure that our cakes are baked fresh by our skilled bakers and packed securely, so they arrive in the same beautiful way they left our bakery. From as quick as a next day delivery to international shipping, we will get your order sent out in time for your special occasion, wherever you are located. You will receive excellent personal service as if you were one of the family from the moment you phone or email in your order to when you receive your Danish cake, and of course with those delicious first bites of your dessert.
When searching for Danish bakeries in Racine, you must not pass up a chance to try our premium quality goods made from scratch with traditional family recipes. Our homemade fillings are created with the best ingredients to ensure that you enjoy every bite right down to the last crumb. When you are planning a party, entertaining friends or family or catering your next event, let us take care of your sweet needs with our Danish cakes and pastries.