Traditional Danish Cakes and Pastries
Saturday, July 27, 2019 by Eric Olesen - 3rd generation owner
Traditional Danish Cakes and Pastries
The Danish culture has a long history of celebrating events that occur in the Christian calendar, such as Christmas and Easter, as well as their own traditions from Denmark. Acknowledging these traditions are an important part of the Denmark culture, and the gathering of family and friends is always an excellent excuse to serve traditional Danish food and mouthwatering cakes and biscuits.
For these reasons, our Danish bakery continues to share with customers our delicious Danish inspired cakes and pastries that have been the result of our time-honored homemade family recipes for more than 60 years.
History of O&H Bakery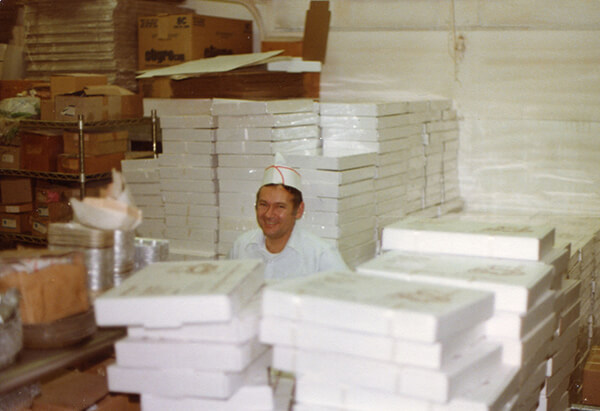 Beginning in the 1920s, Anton Olesen, left Denmark and immigrated to America to pursue a better life for his family. After settling down in Racine Wisconsin, Anton's son, Christian, began working in a local bakery where he continued to refine his skills in the trade for 25 years. Eventually, he courageously started his own business and O&H Danish Bakery was born. Christian established the business in 1949 and got it off to a successful start and as people in Racine appealed for more filling in their pastries, Danish bakers accommodated this request with a change in Kringle shape from the traditional pretzel style to an oval design. This new unique shape meant that the tender pastry could contain more of our sweet homemade fillings, and it continued to drive the success of our family business along with our focus on maintaining traditional baking recipes.
Before long, the bakery was taken over in 1963 by Christian's son, Ray. Along with his wife Myrna, Ray expanded the bakery business when they moved it to larger premises and opened a second location allowing customers from both sides of Racine better access to their Danish pastries and treats. With the popularity of their baked goods snowballing, many former Racine residents wanted to send Kringle as gifts and Ray and Myrna began to send the famous Kringle pastry beyond Racine via mail, so that the wider American community could share in a taste of these delicious Danish sweets.
Now owned by fourth-generation family members, we still believe that sharing in the good life through a taste of happiness can happen one slice at a time with our delicious traditional Danish cakes and pastries. No matter how much time has passed, we continuously refer to our Viking heritage and world-traveling ways through our authentic flaky Danish pastry and new delicious exotic flavors and fillings.
Traditional Danish Pastries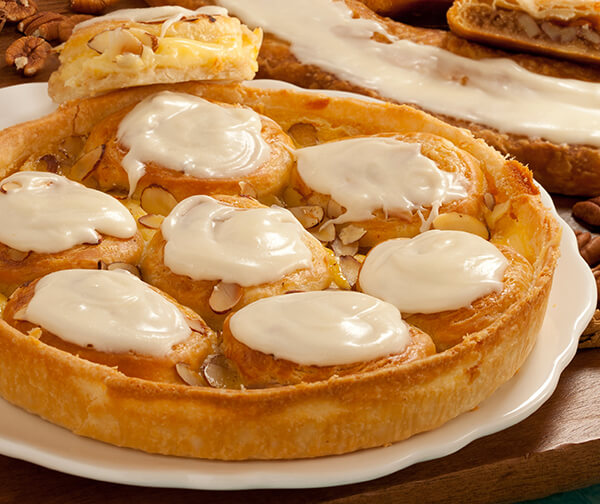 Long before our family immigrated to America, the bakers in Denmark went on strike, causing Austrian workers to be hired in their place. These workers from abroad brought with them a new pastry recipe and baking traditions, which became popular among the Danish people. By thinly rolling the yeast dough and layering with butter or shortening, the Austrian bakers created a multi-layer pastry dough and at the same time introduced the Danes to the wonderful taste and texture of a light, flaky, and buttery cooked pastry. Once the strike of 1850 ended, this technique was adopted by the Danish bakers and, with the addition of more egg or fat, they readjusted the dough to their liking and packed the middle with fruits and fillings which resulted in the Danish pastry.
Also known as simply a "Danish", our family has continued to stick to the traditional pastry recipes and baking techniques that have been handed down from our grandparents. We believe that our famous Kringle is proof of how good this traditional baking method is and that our patience with the time-honored method pays off. Our Kringle dough is carefully and methodically rolled out and layered with butter over three consecutive days until the end product is a 36-layer-pastry dough. Then using homemade fillings and a variety of flavors, our quality baked goods are the quintessential treat to celebrate the Danish culture.
O&H Bakery Guide to Traditional Danish Cakes and Pastries
We have found that celebrating special holidays with family and friends is always made a little sweeter with a traditional dessert or pastry from Old Denmark. We have a wide selection of delicious Danish treats made with our authentic family recipes that have continued to be used throughout the generations. Starting with the delicious Kringle pastry, you can select from a variety of award-winning flavors, ensuring that you find the perfect one to suit your celebration.
We ensure that each of our flavorsome Kringle fillings is made using the finest ingredients from around the world, starting with goods from our own state. Wisconsin is known for its love of great food, and is well known for Door County cherries, fresh from the bog cranberries and silky smooth cream cheese which are the star ingredients in a few of our pastries, like our Cherry Cheese Kringle and Red, White and Blue Kringle. This pastry is a great way for you to discover the seasonal flavors of Wisconsin or exotic tastes of the world while reminiscing the traditions of Denmark through an authentic tender, rich and flavorful outer layer. You will not be disappointed with our extensive selection of Danish Kringle pastries including our most-loved Almond Kringle, Cinnamon Roll, Cream Cheesecake, Viking Very Berry, Wisconsin Kringle and everything in between.
Alternatively, our bread pudding and coffee cakes are a delicious treat for any traditional event. Our skilled and talented bakers take care to handcraft each sweet treat and cake to perfection, ensuring that it is delectable from the first decadent bite to the last. For example, our Danish Cherry bread pudding combines traditional pastry soaked in a vanilla egg custard with a tart cherry filling before being topped with buttery streusel to create a delightful companion to a hot coffee.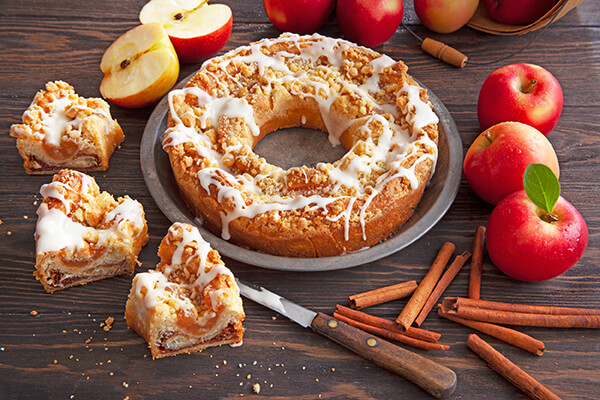 Our Coffee cakes are unlike anything else. This cake is baked with our traditional Danish pastry inside to give you a rich and flaky center combined with a delicious scratch-made filling and crumbly streusel. We bake these in two different styles, while narrowing the flavors to a few select classic combinations that work well together and always satisfy. If you prefer the coziness of apple and cinnamon, then a slice of our Apple Cinnamon Coffee Cake is especially satisfying, especially when you warm it up in the oven.
And while bundt cakes get a little less love than the famous Danish pastries, they are the perfect easy treat for a holiday celebration or traditional festive event. Just as delicious as our pastries, a Danish Coffee cake is a wonderful sweet delight to share among friends and family. We still use our trusted secret family recipe to make soft and moist Danish Crown cakes, balancing them out with just the right amount of Danish-inspired flavors, including our traditional Danish Crown Cake which includes swirls of buttery sweet cinnamon and golden California walnuts, which are blended together with sour cream to make a crown cake that is extra moist. You can also opt to keep your bundt cake recipe simple, with a focus on the best ingredients and flavors like our vanilla and cream cheese, decadent triple chocolate or traditional almond flavors.
O&H Family Way
We are passionate about sharing our Danish heritage through our love for quality baked pastries and cakes. Our family loves a decadent slice of flavor-filled pastry or a piece of soft cake with good conversation, hot coffee and hygge. Danish for a warm atmosphere and enjoying the good things in life, hygge, can be created at your traditional Danish holiday with any one of our mouth-watering pastries, cakes or baked goods.