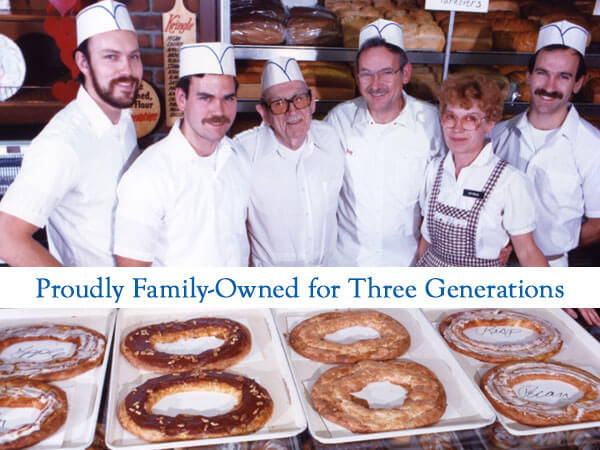 Our Family History: Mailing and Beyond
---
By Eric Olesen - 3rd generation owner
Wednesday, February 16, 2022
Not long after opening up our second location, Ray and Myrna retired, and their three sons — Dale, Mike, and Eric — officially took over the bakery operations in 1994. The third generation of Olesens was ready to continue the traditions of our parents and grandparents while also making our mark on the family bakery. Each of us took on a part of the risks and responsibilities that came with owning a business, giving us the ability to embrace the new opportunities and challenges that would allow our passion for family history, quality bakery and exceptional service to become nationally known.
The Mail Order Boom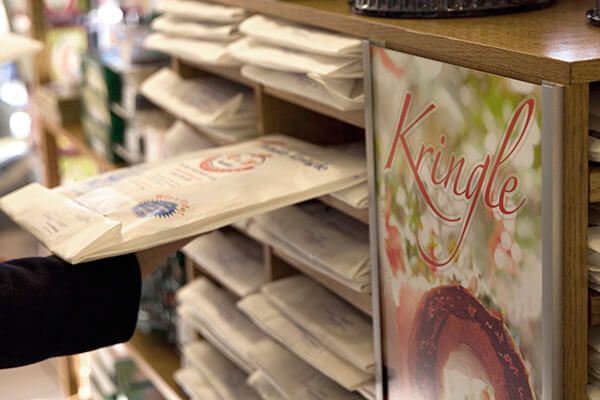 The 1990s were fertile ground for economic growth across the country. Our local customers ordered in unprecedented quantities to hand deliver and ship our Danish treats to families far away. There was also an increase in travel opportunities, particularly to loved ones who might be missing their favorite Kringle.
At the same time, our Mail Order business became a large part of the company, especially as customers could share delicious desserts, pastries and treats with our family-owned bakery satisfaction guarantee. We got so busy that our baking center was bustling with employees working to fill local orders each morning before taking over those same spaces in the afternoon to package our Kringle for Mail Orders.
As our Danish bakery grew, Christmas quickly became our busiest time of year — to get your Kringle in time for the holidays, you would need to order by October 31! We knew we needed a lot more space to keep up with demand for our Kringle, so in 2001, we moved into an additional building that would accommodate a baking center dedicated to Kringle. We also added a larger call center to improve the ordering experience. Slowly but surely, we were able to meet the growing demand of our customers and take orders for Christmas deep into December.
Of course, the early 2000s also saw the beginning of online shopping, and our Kringle was no different. Suddenly, people from all over the country had the opportunity to try our bakery and introduce it to their friends and family living far from Racine. The combination of our website and dedicated call center team is why our Mail Order business continues to grow year after year, allowing us to make classic Kringle favorites and create exciting new flavors.
Changes at Home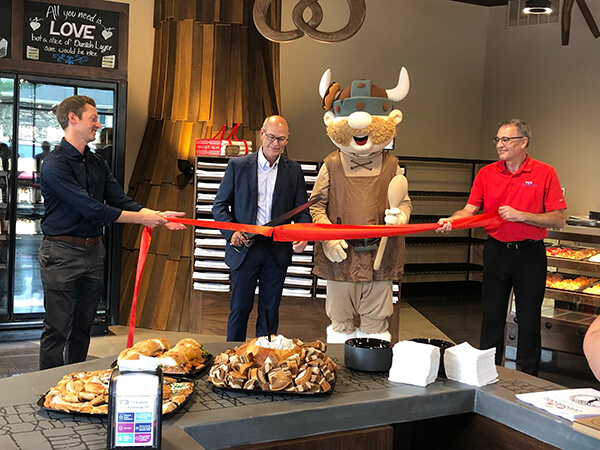 The new millennium also brought many changes to our bakery on the home front. We set up storefronts within and near two rest stops, so travelers from Chicago and Milwaukee had better access to our delicious Kringle. We took the opportunity to design the retail space and employ knowledgeable O&H Ambassadors to provide the excellent customer service that we are known for at our bakery. Since we often deliver Kringle to local gas stations in the Racine area, this wasn't so much a departure from the norm as it was us taking ownership of our bakery presentation in these spaces.
Later in the decade, we suffered personal losses that fundamentally changed our family work dynamics. Our oldest brother, Dale, passed away unexpectedly, followed a few years later by our father, Ray. Our family leaned on each other and our wider O&H family to get us through those years.
In 2012, Mike retired, leaving the running of O&H to Eric and his wife, Lisa, who brought their son, Peter on board as VP of Operations. We recognized the need for an updated and united baking center to continue meeting the needs of our customers. Once again, we took advantage of the opportunity to expand our bakery at a new location that would house our current baking center, call center and a new store. Eric's son-in-law, Matt, joined in 2014 as the VP of Marketing and E-commerce, allowing us to further share our bakery with more families across the country and even globally.
Looking to the Future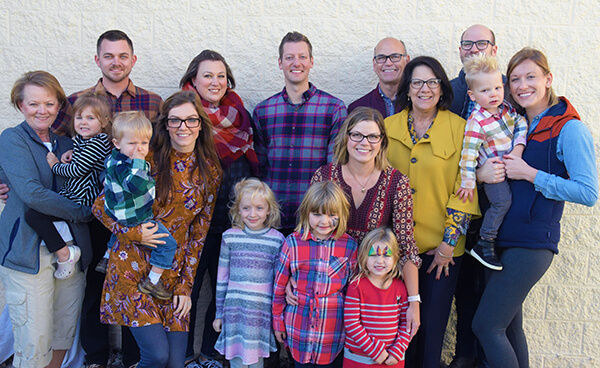 While the history of O&H has certainly been about the Olesen family, it's been vital for us never to lose sight of the wonderful friends and community who share a passion for quality Danish baking. We count ourselves incredibly lucky to work with some truly dedicated and talented people in all aspects of our business — some who have been with us since they were in high school. Their commitment to creating delicious desserts and unparalleled customer experiences inspires us to continue growing and meeting new challenges head-on. With such a remarkable team, we do not doubt that the future of O&H Danish Bakery is in good hands, and we look forward to seeing what new and exciting bakery they share with us.
Get Desserts from O&H Danish Bakery Delivered Straight to Your Door
We understand the importance of connecting with family and friends, and what better way to catch up than with a taste of our quality bakery? Reminisce on the good times, laugh over funny memories and remember those that have passed on with a hot cup of our Gokstad coffee and a slice of your favorite Kringle. You can browse our mouthwatering selection of everyday Kringle or new seasonal treats online, then order for delivery to your door.