How to Make a Dessert Charcuteries Board
---
By Eric Olesen - 3rd generation owner
Monday, February 8, 2021
For us, it's all about hanging around the kitchen and grazing your way through an afternoon - with great company of course. While a dessert charcuterie board looks impressive, putting one together doesn't need to be overly complicated. You can use any size or shape board you desire and rather than laying out cured meats, crackers and cheese, think about arranging your favorite
sweet delights
. Your beautifully presented charcuterie board is a perfect way to offer a selection of tasty finger food for any holiday occasion. Whether you want to set up the board as a Valentine's Day treat for two or lay out multiple arrangements for a Christmas celebration, you can tailor these platters to any theme.
What is a Dessert Charcuterie Board?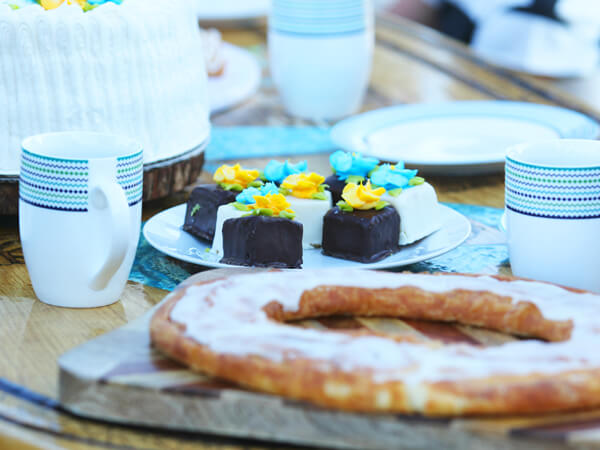 The original idea for a charcuterie board includes artfully arranging cheeses, cured meats and other tasty selections on a wooden platter. A dessert charcuterie board is simply switching out these savory foods for your favorite sweet treat. They make a delicious addition to any holiday occasion such as Easter, Independence Day, Halloween, Thanksgiving, Christmas Day and birthdays as you can easily serve a large crowd. While you may think that you have to spend hours in the kitchen baking up multiple different desserts, you can simply assemble a charcuterie board with a mix of store-bought items and home-baked goods.
Pick a Theme
If you need ideas about how to arrange your charcuterie board, you can consider sticking to a theme to avoid feeling overwhelmed. Colors, holidays, seasons and heritage themes can help you narrow down what type of desserts to put on your board. For example, when making Christmas dessert boards, consider treats that are red, green and white or fill your platter with various Christmas cookies. For a Valentine's Day board, think red or pink, while a Fourth of July dessert platter should be exploding with red, blue and white. Using cake icing, dips, and candy are also easy ways to match your platter's color theme.
Pick your Desserts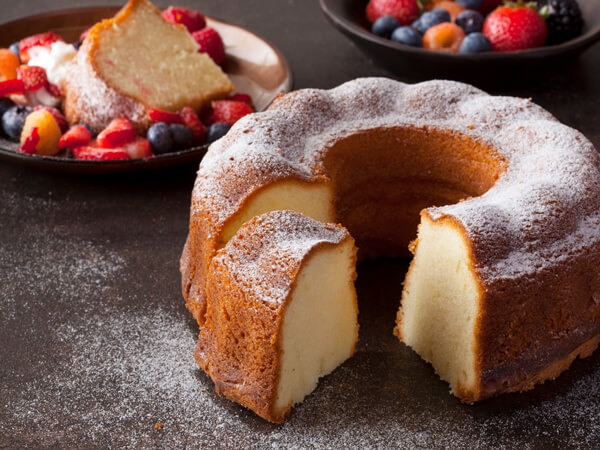 When selecting desserts, think of easy-to-eat finger foods such as cookies, fruit, foil-wrapped candy, chocolate, gummies and cakes. While anything goes when crafting your dessert masterpiece, a mixture of large and small items can make your board more intriguing.
Our selection of Danish Crown cakes is the perfect centerpiece for any dessert board. We have a range of different flavors and the incredibly soft and moist Bundt cake is sure to satisfy your guests' sweet tooth. You can effortlessly arrange a mixture of small and medium-size treats around the cake or fill the center. Fresh fruits are great options to add to any of our crown cake slices and they add a beautiful color to your board. Other delicious desserts for a charcuterie board include our famous kringle pastries, which you can find in more than 13 different flavors. We use the finest ingredients to create our homemade Kringle filling and carefully craft our scratch-made pastry dough over three consecutive days, resulting in a rich, light and crispy pastry when baked. If you want a delightful addition to your charcuterie board, then consider our freshly made Chocolate Eclairs. We fill each eclair with cool butter-sweetened custard cream and cover the outer shell with a thick layer of smooth chocolate fudge.
Assembling Your Dessert Board
Start making your platter with items that will anchor the board. You should place your largest desserts on first such as cakes and pastries, and any dipping bowls even if they're empty. Adding chocolate items can make your platter look very brown, so you can brighten your board with colored candy and fruits. If you need further color inspiration, try arranging other decorations such as mini pumpkins for fall or small Christmas decorations that aren't edible to make your board more aesthetically pleasing.
Placing foiled wrapped candy or toffees in bowls can add texture and height to your dessert charcuterie board. Different shapes such as meringue swirls, pretzels twists or long cookie fingers can also give your board more layers of interest. Be sure to balance your board by repeating your items throughout the tray rather than placing the same desserts in one area.
Dessert Delivery from O&H Danish Bakery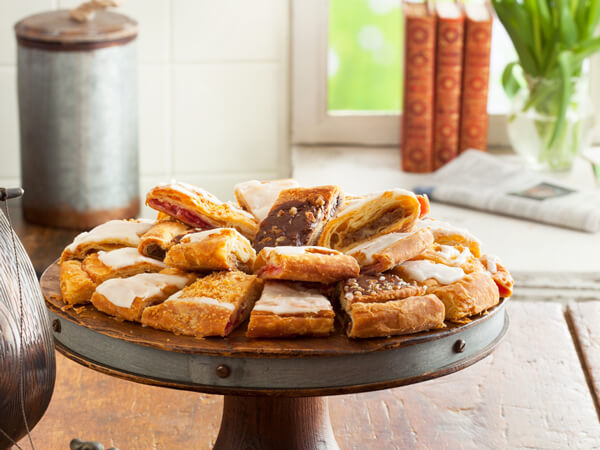 We have an assortment of delicious treats that will make the perfect addition to any charcuterie board. Our talented and skilled bakers use authentic Danish recipes passed down through generations to create our tasty cakes, pastries and cookies. We use the finest ingredients from around the world and, along with our quality baked goods, we provide exceptional customer service, including flexible shipping options. Plus, you can easily order your favorite dessert online and get it delivered to your door! Reach out to our team for charcuterie board ideas or place your order online today.