Danish Sweets and Treats of Your Dreams
Sunday, January 19, 2020 by Eric Olesen - 3rd generation owner
Danish Sweets and Treats of Your Dreams
At O&H Danish Bakery, we know good quality when we see it. That's because we come from a long line of Danish bakers and still carry on their traditional techniques for making the most delicious Danish sweets around, from Kringles to coffee cakes, from brownies to eclairs.
Fun Facts about Danish Sweets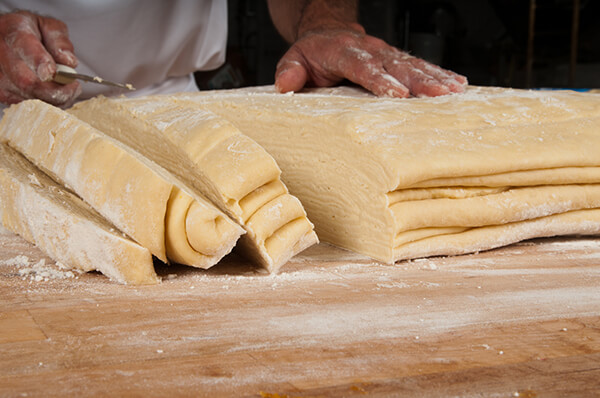 O&H Danish Bakery is steeped in history and tradition.
"Danish pastry" is an Americanism. When you hear the term "Danish pastry" in the US, it doesn't automatically mean that the pastry originated in Denmark. In this context, it could mean any sweet, multi-layered pastry, such as yeast-raised puff pastry that has been enriched with egg and sugar. At O&H Danish Bakery, we offer authentic Danish sweets using the same recipes our family has used for generations.
Did you know? Many Danish sweets are actually inspired by Austrian bakers. Around 1850, Danish bakers, who wanted to be paid money for their work rather than room and board, went on strike. The owners of local bakeries hired foreign workers, many of whom were from Austria, to take their place. The Austrians were quite talented bakers with a knack for flaky, buttery pastries. Even when the strike ended, the Danish continued the techniques they had learned from the Austrians eventually adding in richer ingredients like eggs and butter to create the flaky pastries we know and love.
Traditional Danish pastry dough came from a mistake. Legend has it that the distinctive flaky dough used in so many Danish recipes was originally the result of an error made by a French baker some 350 years ago. A French apprentice baker forgot to add butter to the flour he was using to make dough, the story goes, and so he folded lumps of butter into the dough in an attempt to cover up his mistake. The result was the lightest, flakiest dough he had ever seen - the pastry dough we know and love so well now. This baker set up shop in Italy, where his pastries were a huge success; the Italians then took the technique to Austria, from where it finally journeyed to Denmark. And of course it's made it across the Atlantic to where we are today!
A Look at the Treats We Offer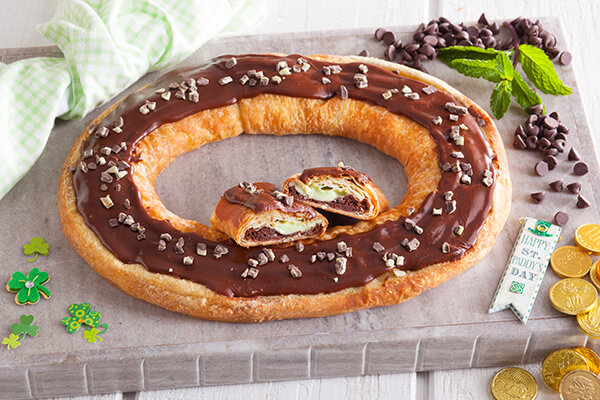 At O&H, we offer a wide range of authentic Danish treats, including Kringles, bread puddings, cakes, pies, brownies, sweet rolls and more. We understand the joy that is getting home at the end of a long day or waking up on a cold weekend morning and warming up with fresh coffee and a favorite treat. That's why we handcraft each pastry with the highest-quality ingredients and recipes passed down through our family's generations. Choose from our mouth watering pastries and enjoy a little slice of Danish life.
Kringle. Kringles are the heart and soul of what we do at O&H. Our family has been making Kringles in the traditional methods of Old Denmark for nearly three-quarters of a century. Originally called Kringler or Kringla in Scandinavia, each Kringle takes three full days to make, and the result is 36 delicate layers of flavorful and flaky pastry stuffed with our scratch-made fruit or nut fillings and topped with sweet, homemade icing. We also offer an endless array of flavor choices, including everyday favorites and seasonal flavors.
Bread pudding. Our bread puddings are made from scratch daily to be decadent and irresistible. Enjoy one of our tantalizing flavors, such as Danish Cherry or Danish Cinnamon Apple. Our Danish Cherry Bread Pudding features our special homemade cherry filling using tart Door County cherries - serve warm with a little whipped cream or ice cream. Our Danish Cinnamon Apple Bread Pudding boasts the same delicious Danish pastry crust but is filled with apples, cinnamon, and sweet butter streusel. Try it with a spoonful of caramel sauce - you won't be sorry.
Cakes. Discover a range of delectable cakes, including our coffee cakes, crown cakes, and layer cakes. We make our coffee cakes unlike any other, with a special family recipe that yields an amazingly flaky center, scratch-made fillings, and crumbly streusel topping. Our Danish Crown Cakes call to mind the mystery and royalty of Denmark with a soft and moist Bundt cake fit for a king. Meanwhile, our Danish Layer Cakes boast the perfect balance of cake and frosting and a unique, hand-decorated exterior for a beautiful cake that tastes as good as it looks.
Other pastries. At O&H, we also offer an array of pastries and sweets for you to enjoy. Our Valhalla Brownies are a popular choice with layers of smooth caramel, creamy icing, and chocolate chips. Or try a Sinful Chocolate Eclair - a huge, freshly baked pastry shells stuffed with buttery custard cream and covered with a thick layer of chocolate fudge topping.
Seasonal favorites. No matter what time of year it is, we have a selection of seasonal treats to help you celebrate. Look for our Valentine's Chocolate Cherry Brownies or Pie, our Sweet Cherry Heart Kringle, Valentine's Day Coffee Cake, Three Layers of Love Cake, or Danish Sweetheart Kringle, for example. Don't miss our King Cake Kringle for Mardi Gras or St. Paddy's Kringle - its mint-flavored custard filling can be your "something green" this St. Patrick's Day.
More about O&H
Around here, we love tradition. We believe that often some of the best things you can do is honor what your grandparents and parents taught you. Our family recipes are pure, authentic, and unbelievably delicious. In the Olesen Family, we are simply obsessed with quality and many conversations have happened around our kitchen table on what we can do to make our pastries better. That's why we never take shortcuts when it comes to our baked goods and rely instead on the traditional methods of the generations that came before us.
We also understand that we wouldn't be here if it weren't for the support of our community. We are passionate about giving back, which is why we use solar power at our bakery, donate to local food shelters, and support other local businesses. We want Racine to know how much we love being a part of this wonderful city.
We're honored every time a customer steps through our doors or places an online order. We want every bite to be perfect and every experience with our employees to be pleasant. Let us know if you have a less-than-excellent experience with us, and we'll make it right - just like our parents taught us. Call us old-fashioned, but we simply believe that it's our job to make your day a little brighter. Come enjoy the good things in life and find out why the Danish are some of the happiest people on earth.