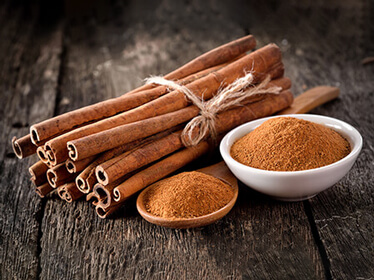 Best Desserts for Cinnamon Lovers
---
By Eric Olesen
Saturday, October 10, 2020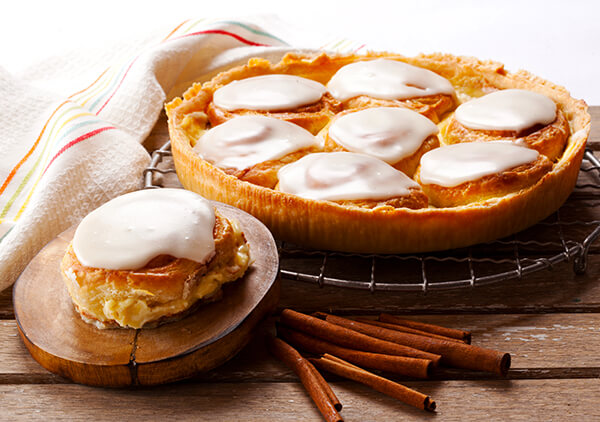 When the aroma of cinnamon fills our bakery, it's almost if our very soul is warmed. Not only does it smell amazing, the unique flavor of cinnamon pairs beautifully with a wide range of foods, including apples, pears, coffee, and ice cream.

Whether you've just recently discovered a taste for this spice or have been a long-time lover, you'll be happy to know that O&H Bakery is your stop for all things cinnamon!

We incorporate high quality Indonesian cinnamon into our traditional Danish pastries and cakes to create delicious desserts that you can eat for breakfast, lunch, or snack time. Our selection of cinnamon-flavored desserts is perfect for treats at home or on the road, so you'll never have to miss out on your favorite sweet delight, or a chance to warm your soul.
Cinnamon Kringles
You're bound to relish in these cinnamon desserts that boast a sweet explosion of flavor with every bite! Enjoy the decadent flaky, buttery, and flavorful pastry of our classic tender Danish Kringles.
Apple Kringle
This Danish twist on a classic apple and cinnamon dessert is a go-to treat for everyone. And while it may not be as American as apple pie, we're pretty sure this will still make you swoon. We lightly sprinkle crisp Michigan apples with cinnamon before encasing it in our hand-crafted Danish pastry dough. This simple yet yummy dessert is the perfect treat to warm in the oven and share with your cinnamon loving friends.
Pecan Kringle
You will not be let down by our Pecan Kringle that delivers on flavor and quality. This Kringle contains a perfect balance of fancy pecans with a smooth brown sugar and cinnamon blend that will tantalize your taste buds. It has been our customer's favorite bakery item for more than sixty years.
Cinnamon Roll Kringle
There is something about cinnamon rolls that just makes our mouth water. Our Cinnamon Roll Kringle is precisely as it sounds. We take a generous portion of our buttery sweet cinnamon and sugar blend and roll it up in our flaky pastry to create a cinnamon lover's dream dessert. We top the Kringle with smooth icing yet ensure that the cinnamon is still the star ingredient of this treat.
Harvest Kringle
Once you taste our Harvest Kringle, you will be waiting every year for us to create this seasonal treat! We take our perfected Michigan apple and cinnamon blend and add toffee bits for an extra bit of sweetness. Topped with creamy icing and more toffee pieces, this combination of flavors is sure to become your new favorite way to eat a cinnamon dessert. It's only available in September and October, so you better get it quick!
Cinnamon Cakes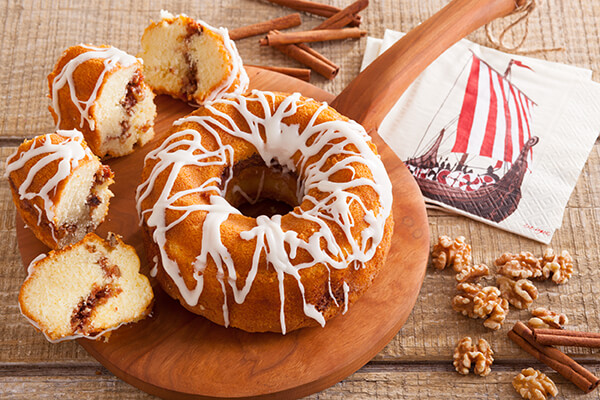 You can celebrate any occasion with a Cinnamon cake from our online bakery or keep one on hand to enjoy a slice with a cup of coffee.
Apple Cinnamon Coffee Cake
It doesn't get any better than our Apple Cinnamon Coffee Cake! We take the best of our ingredients and layer apples, cinnamon, and our famous Danish pastry into a ring of goodness before topping it with crumbly streusel and creamy icing. It goes perfectly with a cup of hot coffee.
Danish Crown Cake
Inspired by the classic cake that our Grandma used to make. One bite into our extra moist sour cream Bundt Cake, and you will remember why you love cinnamon. We infuse swirls of buttery spice throughout the cake, which is beautifully offset with golden California walnuts.
Danish Apple Layer Cake
There is layer upon layer of delicious goodness in our Danish Apple Layer Cake. We add chunks of apple to our cinnamon cake, which we separate with two layers of caramel buttercream and one middle layer of sweet gooey apple cinnamon filling. Our talented bakers hand-decorate this delicious cake for a stylish and tasty finishing touch. We've been inspired by the classic Danish Æblekage for this dessert.
Cinnamon Seven Sisters Coffee Cake
When you have a craving for cinnamon rolls, our Cinnamon Seven Sisters Coffee Cake will hit the mark. Our tender Danish pastry spirals contain a mix of sweet cinnamon, silky smooth cream cheese, and a touch of custard. Who is that favorite sister now?!
More Cinnamon Desserts at O&H Bakery
When you're looking for indulgent cinnamon sugar desserts that go that one step further, our bakery sets the benchmark with our traditional Danish recipes and techniques.
Danish Cinnamon Apple Bread Pudding
Warmed in the oven or served at room temperature, you will be in heaven with every bite of our Danish Cinnamon Apple Bread Pudding. We place an apple, cinnamon, and sweet butter streusel combination on top of a unique hand-crafted crust filled with pastry pieces soaked in vanilla egg custard. And if you want to take it to the next level, just cover it with a caramel or rum sauce!
Order Your Favorite Cinnamon Dessert Online from O&H Danish Bakery
We find delight in making our customers happy, and our selection of spice-filled treats baked with the finest ingredients is sure to leave every cinnamon lover smiling after one bite. Wherever you are in the world, you can order your cinnamon desserts online for delivery, or if you live in the Racine area, you can pick up your sweet treat from our bakery. Reach out to us for any questions and our friendly staff will happily take you through our delicious selection of cinnamon filled desserts.