Favorite Breakfast Desserts
---
By Eric Olesen - 3rd generation owner
Sunday, January 31, 2021
Eat dessert first! That is our motto anyways, so whether you're surprising your special someone with breakfast in bed, hosting a spring brunch, or satisfying a late-night snack attack, there's just something irresistible about breakfast desserts. Perfect for an office meeting, as a weekend family breakfast, or just to treat yourself, our breakfast desserts at O&H Danish Bakery are fit for a king. So what are breakfast desserts? We like to think of them as delectable treats that pass perfectly for that most important meal of the day, but versatile enough that you can have them for dessert too. Huh?! More delicious occasions to eat Kringle - count us in! Here are a few of our favorites.
Apple Kringle
Our Apple Kringle stands out as an incredibly tempting traditional Danish pastry featuring a buttery, flaky outside and a filling of crisp Michigan apples and cinnamon. We finish the whole thing off with a homemade sweet white icing for a four-seasons, any-time-of-day treat. Breakfast desserts with apples are perfect for breakfast, lunch, dinner, or anything in-between. Pair it with some hot coffee and it'll satisfy that breakfast craving.
Pecan Kringle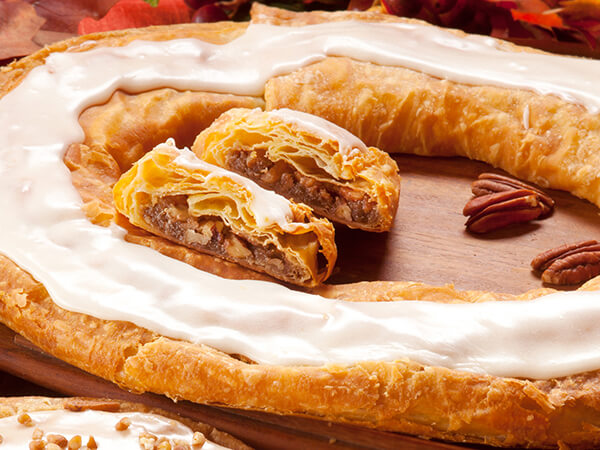 If you're looking for a quick breakfast dessert, you can't do any better than our famous Pecan Kringle. This O&H classic has been a favorite of our family and customers for decades. You'll be hooked after one bite of this delicious pastry stuffed with pecans, brown sugar, and cinnamon and drizzled with sweet white icing. To make an even more irresistible treat, warm your slice and enjoy with a scoop of vanilla ice cream or whip cream. If Waffles can do it, so can the Pecan Kringle!
Cream Cheesecake Kringle
When you think of easy breakfast desserts, do you think of sweet, rich decadence? So do we, and our Cream Cheesecake Kringle fits the bill nicely. This masterpiece becomes more popular with each passing year thanks to its traditional flaky pastry and silky-smooth cream cheese filling. We get our cream cheese from a local creamery, so you know it's just that good. This classic Wisconsin treat is ideal with a cup of fresh-brewed coffee morning or night.
Cinnamon Roll Kringle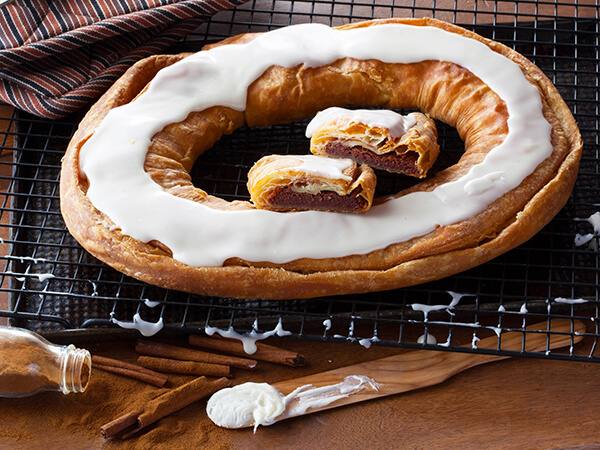 Another one of our delicious Kringle offerings is our Cinnamon Roll Kringle, a fantastic choice whether your sweet tooth strikes in the morning or late at night. Reminiscent of fresh cinnamon rolls warming in the oven, this pastry is the very embodiment of the Danish concept of Hygge. We fill our flaky pastry layers with buttery-sweet cinnamon and sugar and top the entire Kringle with sweet icing for a treat you'll have a hard time turning down.
Cinnamon Seven Sisters Coffee Cake
Our Cinnamon Seven Sisters Coffee Cake provides the irreplaceable aroma of fresh cinnamon rolls wafting through your kitchen. These delicious little coffee cakes are a tempting blend of silky-smooth cream cheese and sweet cinnamon mixed into soft, tender Danish pastry spirals. As if that wasn't enough, we also add a little custard for an extra-special touch.
No Added Salt and Sugar Sweet Rolls
If you love sweets but have specific dietary restrictions, we have you covered. Order a batch of our No Added Salt and Sugar Sweet Rolls for a guilt-free pleasure you and your family or guests can enjoy any time of day. We include a dozen assorted Danish rolls with a variety of fruit toppings in a beautiful presentation. We add no salt or sugar to these tasty treats, yet they remain surprisingly flaky and flavorful.
Breakfast Dessert Alternatives
Don't have much of a sweet tooth in the morning? That's okay – we also offer a range of delicious non-sweet morning treats, from premium coffee to fresh-baked bread. Try a warm, buttered slice of our Danish Pumpernickel Bread or Rugbrød Danish Grain Bread, and pair it with a fresh, hot cup of Gokstad coffee. Our coffee also pairs perfectly with all the breakfast desserts mentioned above.
Order Breakfast Desserts Online from O&H Danish Bakery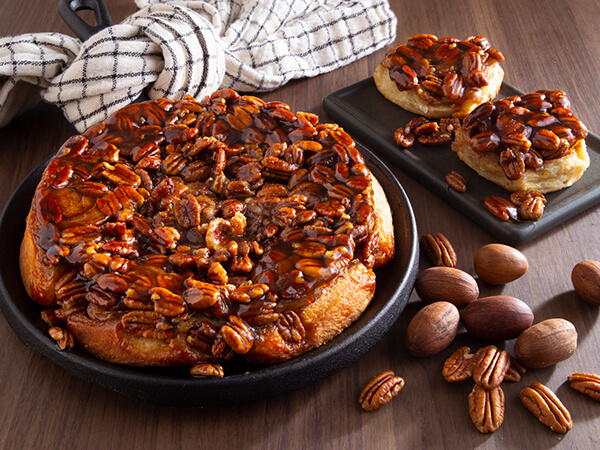 One of the best things about our array of breakfast desserts is that they can all be delivered directly to your doorstep. Whether you're planning a weekend brunch for your friends or would simply like something special to start your day off with, we can help. Browse our delicious offerings (like our new Danish Pecan Sticky Buns!) and place your order today – and please do contact us if you have any questions or comments. We're always happy to do whatever we can to ensure your complete satisfaction.