Pumpkin Desserts for Fall & Thanksgiving
---
By Eric Olesen - 3rd generation owner
Wednesday, August 24, 2022
As the days start to grow colder and the holiday season draws near, many people are set on finding the best pumpkin desserts for Thanksgiving. O&H Danish Bakery is well known for our assortment of Pumpkin desserts that are sure to please your entire family. The aroma of pumpkin blended with cinnamon wafts through our bakery on these fall, crisp days. It is heavenly and immediately transports us back into our own kitchen, learning how to bake these delicious autumn treats.
Pumpkin Caramel Kringle
With a unique mix of fall spices, caramel, and pumpkin, our Pumpkin Caramel Kringle is the perfect ending to any fall feast. We believe in having the finest ingredients, which is why we select the best Grade A pumpkins for our bakery. This smooth and velvety filling is added to our tender and delicate pastry and then we frost it in sweet caramel icing. This seasonal dessert would not be complete if there weren't pecan sprinkles on top, which is what truly knocks it out of the park. This decadent dessert will be available starting in September!
Pumpkin Brownies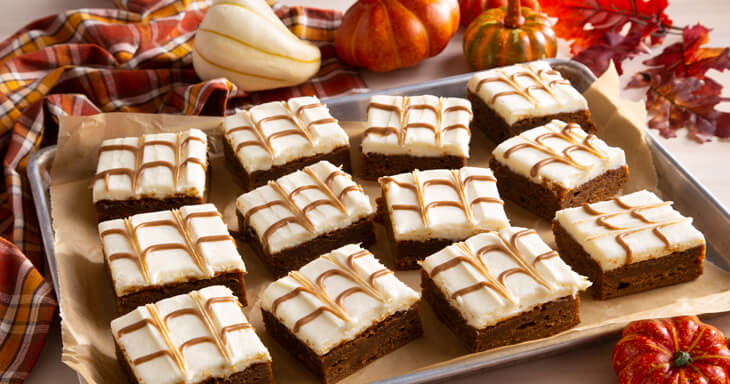 If you are in search of pumpkin pie alternatives, our Pumpkin Brownies are an ideal solution. For years our local customers in Racine, Wisconsin would beg for us to bring them out early. As soon as the pumpkin season arrived, we'd have swarms of happy customers treating their taste buds with this treat. These soft brownies not only include a delicious pumpkin flavor, but we also top them with a mouthwatering cream cheese frosting, which adds a creaminess that balances perfectly with the rich pumpkin flavor. Each order consists of eight brownies, so you'll be assured that there will be plenty of brownies to go around.
Pumpkin Crown Cake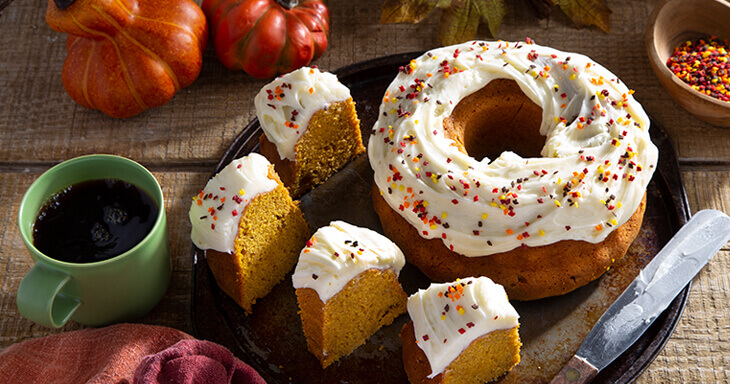 We have found that sometimes the simplest recipes, baked to perfection taste the best. Our Pumpkin Crown Cake is a delicious complement to a hot cup of coffee at the end of a Thanksgiving meal. This moist bundt cake is iced in cream cheese frosting and garnished with fall sprinkles. The best part about this cake is that you can easily enjoy it during breakfast, lunch, or after dinner, or even to indulge in a mid-morning or afternoon snack.
Festival of Fall Kringle Flavors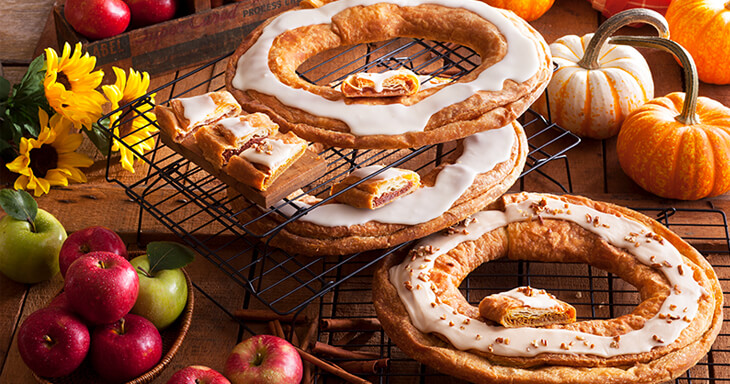 When we think of fall, our minds wander to the flavors of cinnamon, apples and pumpkins. These seasonal flavors are the stars of our Festival of Fall Kringle Flavors, where you will receive an assortment of some of our best fall flavors. You can think about this box as having your fall flavors and your pumpkin too, because it can feed up to 36 people. The O&H Bakery danish kringle flavors included are an Apple Kringle, a Cinnamon Roll Kringle, and a Pumpkin Caramel Kringle. If you prefer to eat any of these desserts warm, simply place them in a 350-degree oven for three-and-a-half minutes and relish in the results!
Order Your Favorite Pumpkin Desserts Online from O&H Danish Bakery
When you have a craving for fall desserts with pumpkin, look no further than the tasty selection available at O&H Danish Bakery. Our team of experienced bakers take pride in creating pumpkin desserts that will leave you wanting to take one more bite every time you eat one. We offer our customers the flexibility to ship our desserts to loved ones or friends anywhere they live, so you can have a little pumpkin happiness shipped fresh right to your (or their!) door.
Do you need suggestions for pumpkin dessert ideas? Please contact us today - we are always happy to help!