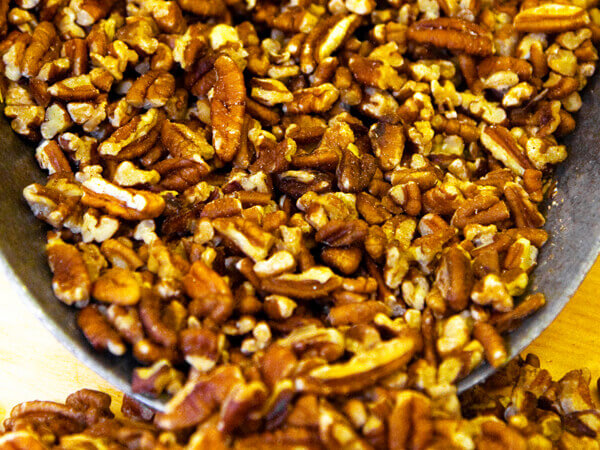 Pecan Desserts from O&H Danish Bakery
---
By Eric Olesen - 3rd generation owner
Sunday, October 2, 2022
Whether you want to snuggle inside on the couch with a good book or warm up your home with family and friends this season, an offering of delicious pecan desserts is the perfect way to sweeten the experience. We love the nutty flavor, crunchy texture, and endless versatility of pecans, which is why they are one of our favorite ingredients to showcase in our baked pastries and cakes. From sweet sticky buns to mouthwatering buttery Kringles, pecans are the star of these delicious desserts that are sure to impress and have everyone reaching for more. We select only the finest fancy Grade A pecans for our bakery because when the ingredients taste great, the bakery is even better!
Pecan Kringle
Enjoy the sweet combination of our flaky pastry and fancy pecans in every bite with our Pecan Kringle. This dessert is sure to satisfy your sweet craving and love for pecans. We fill our scratch-made 36-layer pastry dough full of pecans, brown sugar, and cinnamon for a delightful treat. You can readily cut the Kringle into pieces and share it with family and friends, but after one bite, you may want to keep it all for yourself! There is a reason this is our most popular flavor of Kringle: You just have to try it!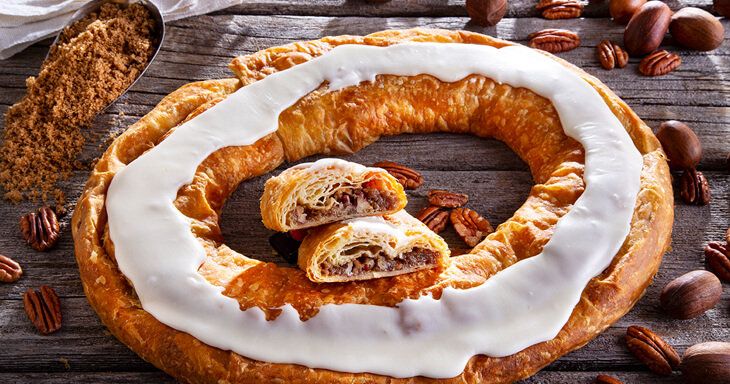 Pecan and Raspberry Kringle Pair
Nothing balances the nutty flavor of pecans better than sweet fruit. Well, that's what we think anyway, so we created this tasty pair of Kringles for sharing with family and friends or taking to a work potluck. Enjoy a bite of our Danish Pecan Kringle, and then indulge in a taste of our scratch-made sweet ruby red raspberry filling in our Raspberry Kringle. This perfect pair happens to be our best gift too!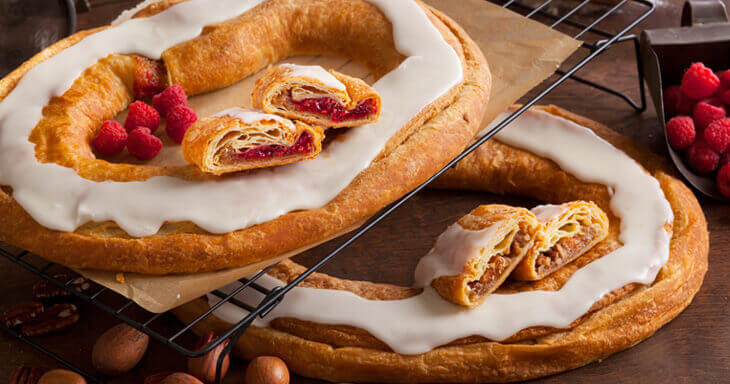 Pecan Collection of Desserts
When you want a selection of desserts with pecans as well as other flavors, you don't need to order separate cakes and pastries. We make it easy for you to get your fill of our favorite nut and other tasty treats with our pecan collection of desserts, including The Three Kringleteers and our Scandinavian Breakfast Buffet. We also have a No Added Salt and Sugar Kringle package that features our classic Pecan Kringle, because we wouldn't want anyone to miss out on their favorite Danish dessert.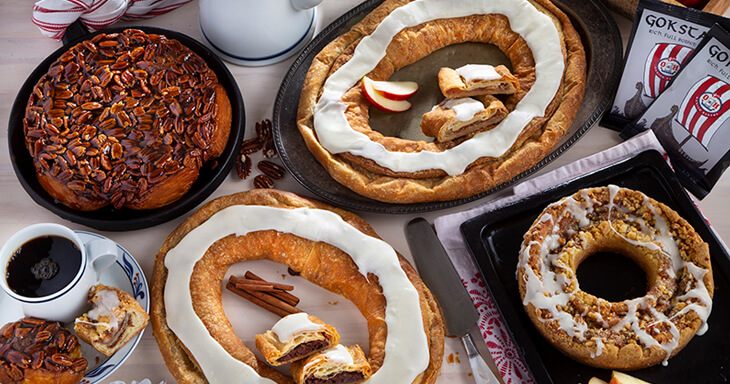 Danish Pecan Sticky Buns
Once you try our Danish Pecan Sticky Buns, you'll understand why this is a popular dessert with our customers. We take our artisan pastry, add a cinnamon-and-brown sugar filling, and then top it all with a generous serving of fancy pecans and caramel. You can heat the buns in the oven for a warm, delicious dessert on a cool night and reminisce about your childhood as you lick your sticky fingers clean.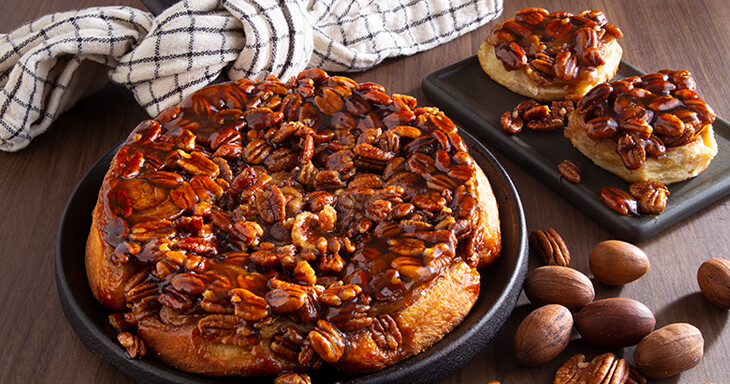 Pecan Custard Coffee Cake
We pair the finest pecans with silky-smooth custard, butterscotch filling, and our sweet, flaky pastry for a decadent dessert. Serve our Pecan Custard Coffee Cake at room temperature after a holiday feast or enjoy a slice with a warm cup of coffee anytime of day.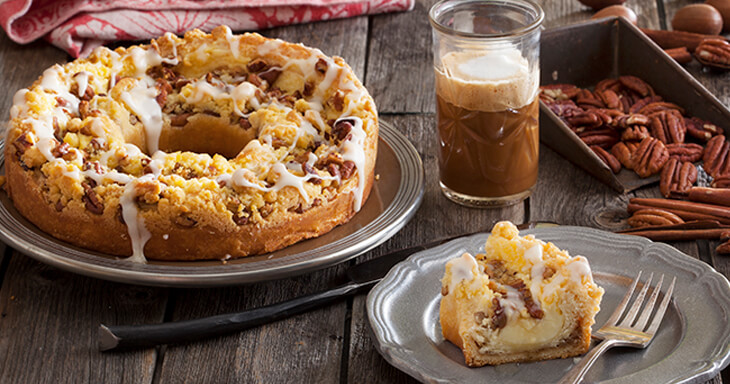 Fancy Pecan Collection
Looking for the perfect pecan desserts for your Thanksgiving dinner? Impress your guests with our Fancy Pecan Collection. We include our award-winning Pecan Kringle, heavenly Angel Food cookies, and delicious Pecan Custard Coffee Cake, so no one needs to miss out on a piece of mouthwatering Danish dessert.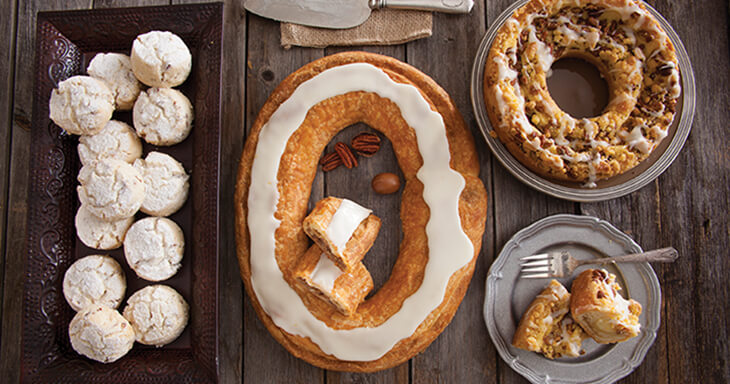 Order Crowd-Pleasing Pecan Desserts From O&H Danish Bakery
Whether you love a blend of pecans, cinnamon, and brown sugar, or the hint of nutty flavor with sweet custard and pie crust, we have a delicious assortment of desserts to suit every occasion. We are dedicated to using authentic Danish recipes and the finest ingredients from around the world to create desserts that satisfy every craving. Our talented bakers carefully handcraft each dessert to ensure the perfect balance of taste and texture, so you can enjoy the sweet explosion of mouthwatering flavor in each bite. Browse our desserts with pecans online and order for delivery straight to your door or reach out to our team for other nutty treat recommendations.