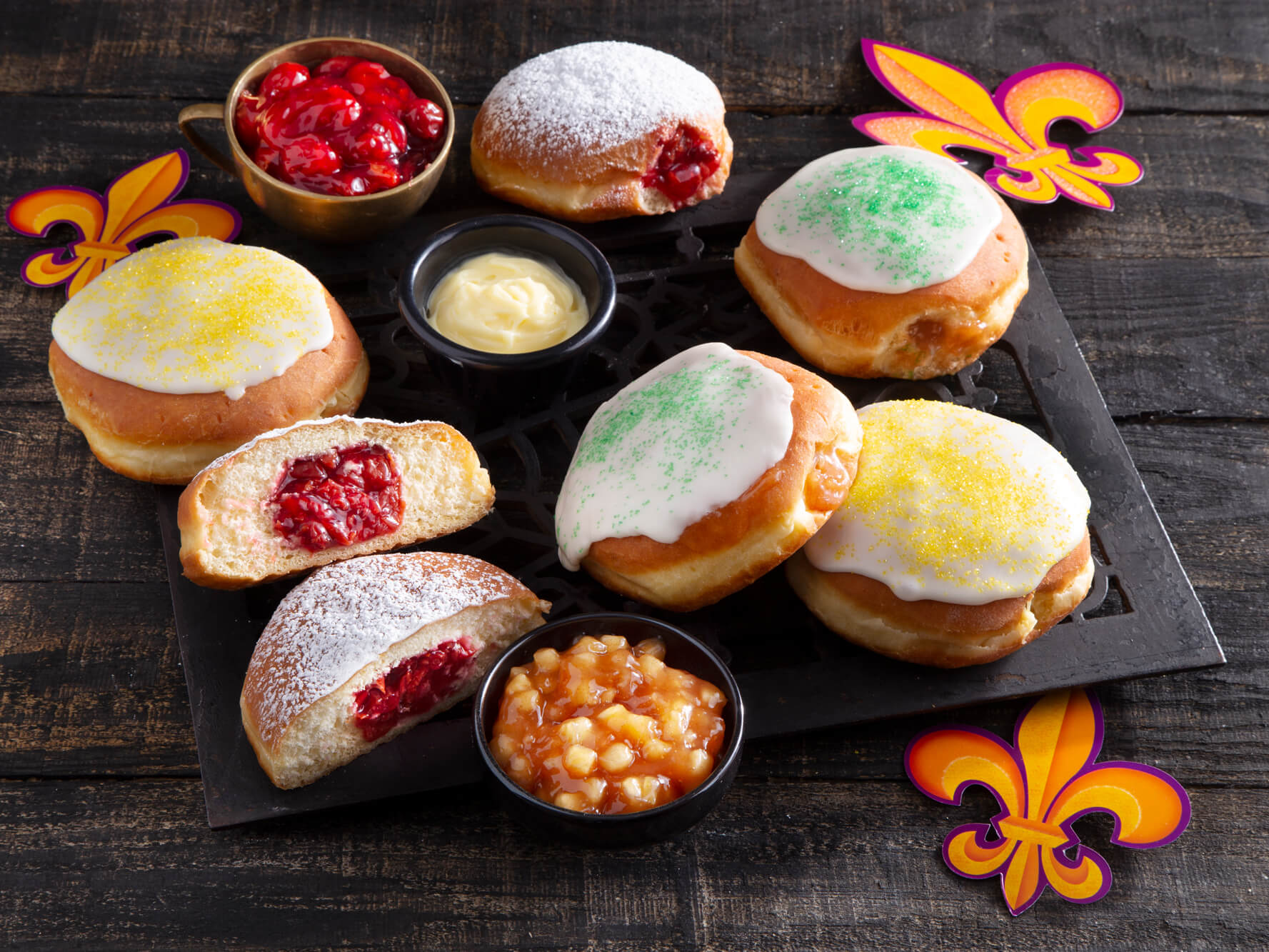 Fat Tuesday Desserts: Paczki
---
By Eric Olesen - 3rd generation owner
Sunday, January 17, 2021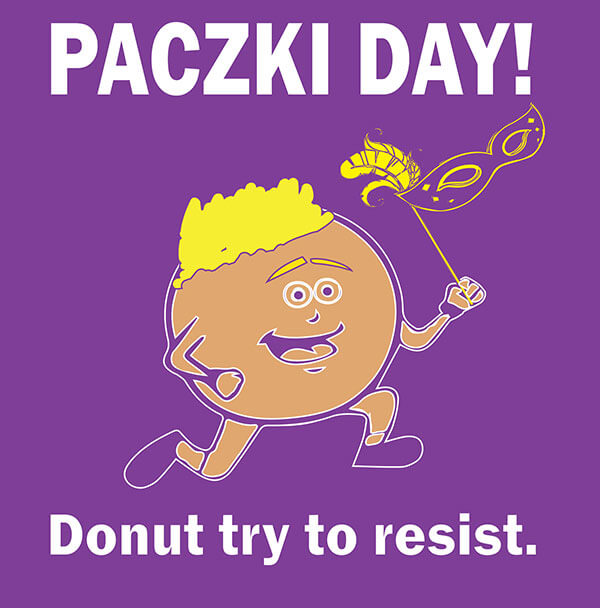 If you're wondering why there is so much excitement in the build-up to Lent, then you will quickly understand once you taste our Paczki donuts. While slightly different to a traditional donut, this Polish Fat Tuesday dessert is the perfect way to splurge, indulge, and enjoy some sweet, rich flavors before pre-Easter fasting begins. Whether you call it Shrove Tuesday or Fat Tuesday, the meaning remains the same and, at our bakery, we love any excuse to gather family and friends around the table with delicious food. For that reason, we have an array of tasty dessert options that you can select before you start Lent (or just because), including our various assortment of Paczki flavors.
What are Paczki?
Meaning "little packages", Paczki is a Polish word pronounced POONCH-key. They are deep-fried donut-shaped desserts filled with sweet fillings. Traditionally, a small amount of grain alcohol is added to the Paczki dough before cooking which evaporates and prevents the absorption of oil deep into the donut. While Paczki has been around since the middle ages, it wasn't until French cooks made their way to Poland that the dough was vastly improved so that it became lighter, spongier and more resilient.
How is it Different from a Donut?
The difference between Fat Tuesday donuts and regular ones is that Paczki is made with a very rich, sweet yeast dough that consists of eggs, fat, sugar, yeast and milk. After deep frying the dough, we glaze the donut with granulated or powdered sugar before packing it with a deliciously sweet filling such as custard or jam. Unlike a regular donut with a hole in the center, Paczki encloses the filling. In Poland, a stewed plum jam is the most traditional filling yet, and you can also commonly find custard, strawberry, blueberry, apple and raspberry-filled Paczki.
What Does Paczki Taste Like?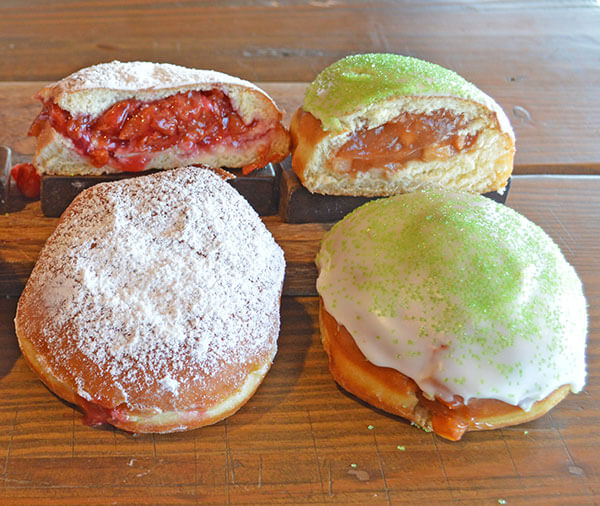 We make Paczki with a yeasty dough that contains more eggs than regular recipes giving this dessert a delightfully rich flavor. The big, plump shape of the donuts indicate its fluffy texture while the bright stripe around the middle is evidence of it being fried in fresh oil. Regardless of whether you opt for a sweet fruit or custard center, these Fat Tuesday desserts with their perfect balance between dough and filling won't disappoint. Most bakeries are now more generous with their fillings than the original one teaspoon-sized portion.
Why Do We Eat Paczki on Fat Tuesday?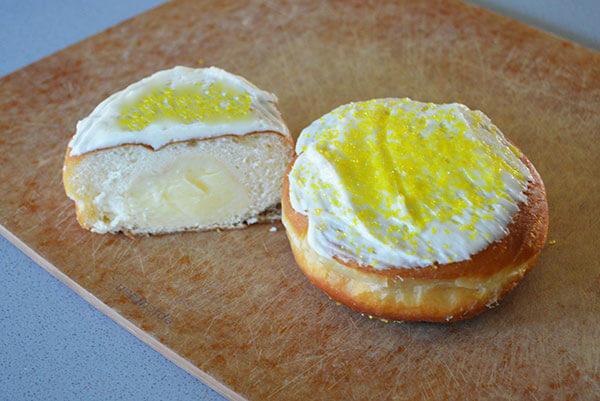 Traditionally, the popularity of Paczki was about more than merely indulging in a decadent, sweet dessert before starting Lent. As Lent is a time of fasting before Easter in the Christian calendar, making Paczki was a way to use up fatty ingredients such as lard, butter, sugar, eggs and fruit before implementing food restrictions. By consuming these forbidden ingredients before Ash Wednesday, Lent participants would not be tempted to eat them during their time of discipline and fasting.
Paczki Flavors
Our Paczki Mardi Gras package is the perfect way to indulge in a decadent treat with our assorted Paczki flavors.
Apple

Made using our traditional homemade filling, you will delight in this fruity goodness surrounded by soft dough. As always at our bakery, we use the finest ingredients for our creations, and we only need to look across the lake for crisp Michigan apples to be the star of this dessert. Stewed to perfection, the apple center beautifully complements our smooth and creamy icing.

Lemon Custard

While plain custard Paczki is a decadent treat, we add our own twist to this traditional filling with a tart lemon taste. The burst of citrus flavor makes for a delicious contrast against the sweet pastry and icing for a perfectly balanced dessert.

Cherry

We take juicy Wisconsin Door County Montmorency cherries and create a delicious homemade filling that tastes just as exceptional as its vibrant red color. We pack the center of our Paczkis with a generous serving of filling so you can relish the flavor with every bite.
Order Paczki Online from O&H Danish Bakery
This popular treat awaits you at our bakery, but you can also skip the line and order your Paczki online! We also have a wide selection of other Fat Tuesday desserts such as our delicious Kringles and Layer cakes that are perfect for sharing with a large crowd or indulging your sweet tooth before Lent. Reach out to our friendly staff if you have any questions about our baked goods.