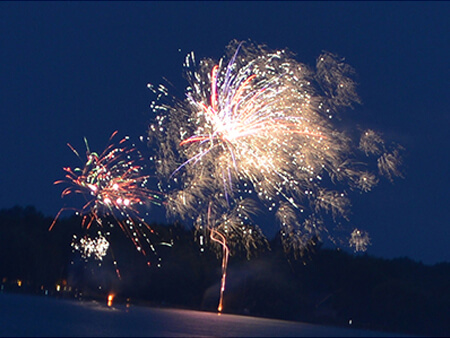 Fourth of July Party Planning: Themed Cakes from O&H Danish Bakery
---
By Eric Olesen - 3rd generation owner
Wednesday, June 22, 2022
Independence day is a time for big celebrations that includes barbecues, summer sun, fireworks, family and friends. When you are planning your Fourth of July party, be sure to include the "cherry on top" by offering your guests one of our mouth-watering and delicious desserts. You will impress your Fourth of July party guests with any selection of patriotic cakes and desserts from our bakery, where we use traditional methods that have been passed down through four generations. At O&H Danish Bakery in Racine, our 4th of July themed cakes and pastries are a delight to the eye and experience for your taste buds from the first decadent bite to the very last crumb.
We Understand the Significance of Traditions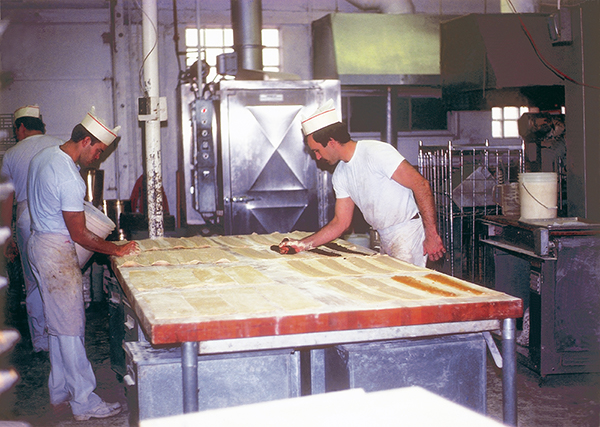 Just as America has been celebrating the 4th of July since 1776, our family has been sticking to the tried and true methods of scratch-baking since our bakery began. Starting with our great grandfather, Christian Olesen, we have dedicated ourselves to following the same recipes and methods for our delightful treats since their establishment in Old Denmark. We believe there can be no short-cuts and that our patience is rewarded with a fresh, tasty and inviting bakery.
Our family bakery has transitioned from one generation to the other and focused everyday on contributing to our community and carrying on the time-honored baking techniques taught to us. Just as we are obsessed with quality delights, community spirit and treating each of our customers as if they are family, we believe that our desserts and treats will send the same message when you share them at your Fourth of July party.
Red, White and Blue Kringle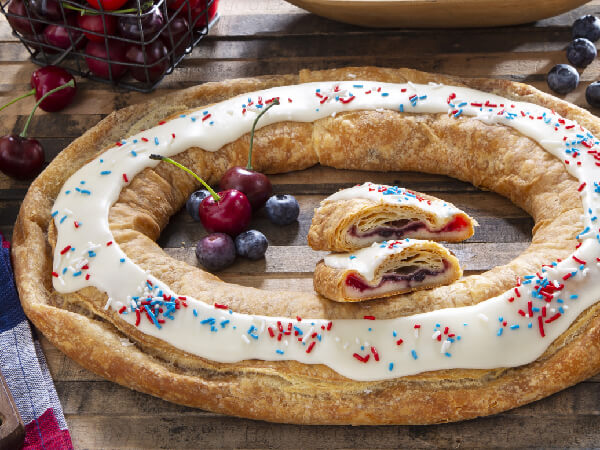 There is no more authentic example of taking our time and being patient than when we create our famous Kringle pastry. Over three consecutive days, our bakers lovingly roll thin slices of butter into the dough and then let it rest overnight to complete a 36-layer-pastry dough. This method of layering, rolling and rest pays off when you experience our well-crafted, rich, yet light, tender, flaky and flavorful Kringle.
You can take delight in this delicious Danish treat with an American twist when you order our Red, White and Blue Kringle for your Independence Day dessert. We love to celebrate this monumental day with our fellow Americans by creating a patriotic take on a Danish treat filled with the finest local ingredients from Wisconsin. Our passionate bakers approach our home-style fillings the same way they do our pastries and Danish cakes for parties - from scratch.
With eager anticipation, we let nature produce the sweetest and finest fruit for use in our fillings. We are fortunate enough to include in this 4th of July Kringle pastry, the famous Door County cherries mixed with blueberry for an exciting blend of flavor. You can share this flaky Danish pastry topped with cream cheese with up to twelve of your friends at your Fourth of July party.
American Flag Danish Layer Cake and More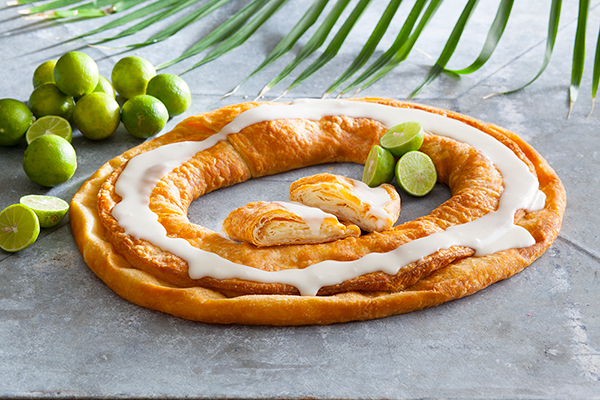 The early Danes are well known for their world travels and embracing new cultures while imparting some of their traditions. This traditional influence led us to appreciate both far and near which is why we were inspired to create our beautifully hand decorated Flag Layer Cake which is perfect for any Fourth of July celebration. Made with red and blue velvet cake layers and topped with delicious frosting, your guests will be in for a treat. The traditional American flag design on top of the cake is an ideal addition to your red, white and blue themed party. If you dare slice into this beautiful creation, you will be rewarded with a moist and flavorsome cake that was lovingly made by our talented bakers.
At O&H Danish Bakery, we believe that while good food makes a good meal, great company makes for the best parties, which is why we commit to providing quality desserts that are perfect to share. You can easily keep the conversation going at your party when your guests rave over one of our scrumptious summer cakes that are perfect for a patriotic party. Our Danish Cherry Bread Pudding takes the best tart Montmorency cherries from our home state of Wisconsin and pairs them with our pastry which we soak in vanilla egg custard and then top it with a buttery streusel for a mouth-watering delight.
Our Key Lime Kringle is the ultimate refreshing treat for the hot month of July, and your party guests will get a tart and creamy filling surprise. Made from key lime juice direct from the Florida Keys, you can indulge in a taste of this vacation hot spot, without the travel.
Order Your Danish Cakes Online in Time for Your 4th of July Party
Organizing an Independence day party takes a lot of work. When you're thinking about a sweet treat to offer your guests, you can't get any better than our 4th of July cake ideas. We value quality time with those close to us and believe that sharing the taste of happiness, one slice at a time equates to a good life. For this reason, you can order your delicious treats online and have them shipped to you within two days to make sure that you can share a slice of happiness with your guests through our desserts.
And let's not forget our patriotic American Flag Danish Layer Cake that is guaranteed to arrive right to your door, making it easy for you to get ready at precisely the time you want to serve it. You will still experience the soft and creamy icing the way it was intended, and this delightful treat will keep well for several days of enjoyment.
We're proud to be from Racine, Wisconsin and we'd love to share our treats at every fourth of July celebration around America. It's easy as apple pie, especially when you order online so that you can select your delectable pastries and cakes and have them shipped anywhere from Alaska to Hawaii and beyond. When planning your Fourth of July party, remember that cakes from O&H Danish Bakery are created to be shared and enjoyed together. Get your order in today and serve the best dessert with those you love.