O&H Danish Bakery Kringles for Christmas
Saturday, October 5, 2019 by Eric Olesen - 3rd generation owner
When it comes to the holidays, there is no one right way to celebrate. Each family has their own Christmas traditions, and through the passing generations, these traditions evolve. Your family has no doubt developed its particular traditions that have special meaning for you - things that you look forward to with each approaching holiday season. However, almost everyone has one custom in common this time of year: rich, indulgent, delicious food - especially sweets.
At O&H Danish Bakery in Racine, we pride ourselves on our fresh-made traditional Danish pastries and desserts, and we love making them part of our Christmas celebrations. The Danish have a concept known as "hygge" - the art of creating or appreciating special feelings or moments, a quality of warmth, happiness, comfort, and kinship. Hygge is about finding moments to celebrate, even when it's cold and dark outside. The simple act of enjoying a cup of coffee or lighting a candle can make a huge difference to the spirit, especially when shared with friends.
Hygge is more important than ever around the holidays when we gather with loved ones to share in the spirit of the season, and food helps us do that. Nothing says "Merry Christmas" like our traditional Danish Kringle. Whether you're serving a few sweets and coffee or an elaborate meal complete with dessert, Kringle is right at home on your holiday table. With warm, intoxicating flavors and aromas perfect for the season, Kringle is the ideal breakfast, snack, or dessert to pull out when guests arrive or take with you as a hostess gift or a thoughtful token for a coworker or client.
What Is Kringle?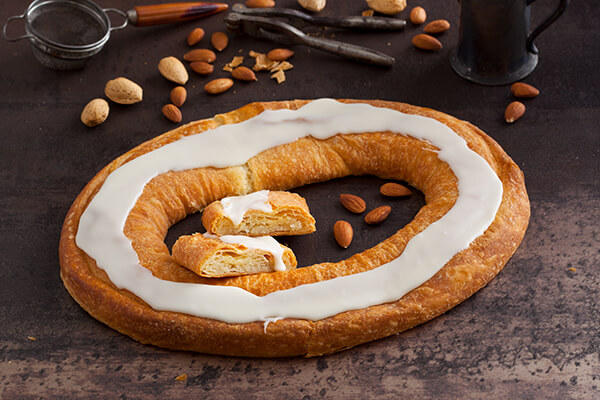 When you're looking for memorable Christmas desserts, it's tough to argue with Kringle made from a generations-old traditional Danish family recipe that has been a tradition for 70 years for our local customers in Racine as well as our customers who order online all across the country. When you buy Kringles for Christmas, whether you walk into our store or order through our website, you'll receive a taste of Danish tradition and a touch of the love and care that go into everything our family makes.
The heart and soul of Kringle is its light, flaky dough, folded over and over into dozens of layers for a uniquely-tender pastry that will hold all kinds of fillings. After 3 days, when the dough is ready, we fill it carefully with irresistible fillings such as fruits, jams, or nuts. We still make our fillings from scratch with the greatest care, because that is how our grandparents taught us. Call us old fashioned but we think it makes it taste that much better. We bake the filled Kringle to golden-brown and then top it with sweet, creamy icing for a delectable finish.
Kringle was originally brought to Racine by Danish immigrants in the late 1800s and over the years families enjoyed it together and throughout southeastern Wisconsin and shared their joy with families and friends. Thanks to our great customers, today, it is the Official Pastry of Wisconsin. Almond may be the traditional filling, but we're happy to call it just one of our vast number of options at O&H Danish Bakery. If you're searching for a "Christmas Kringle bakery near me", you've found the right place.
Order Danish Baked Goods for the Holidays Online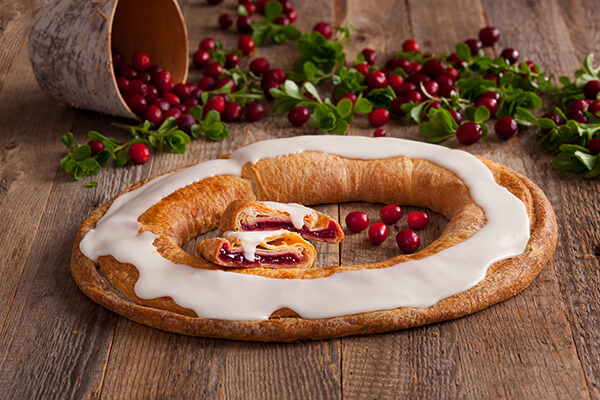 If you're looking for Racine Kringle and where to buy it, we can help. O&H Danish Bakery offers all of our everyday and seasonal Kringle favorites both in our Racine locations and online. The Christmas season can be hectic between shopping, cooking, and socializing, but we aim to take the stress out of entertaining for you. Choosing to order Kringle online is a great way to make your Christmas easier than ever. We offer many lovely Kringle flavors fit for a holiday, such as:
Eggnog Kringle: The classic holiday drink, eggnog, is traditionally made of egg yolks, milk, spices, and rum. Eggnog has a rich history going back to Medieval Britain. It became popular at Christmastime in the 18th century because of its warmth and inviting flavors including vanilla, nutmeg, and cinnamon. Today, our Eggnog Kringle embodies the hygge of Christmas perfectly with these flavors in a creamy custard filling wrapped in our flaky pastry, topped with creamy frosting, and sprinkled with crushed gingersnap cookies.
Whether you'd like to go into a Danish bakery in Racine or are looking for a Kringle bakery online, you've found us. When you're looking for Racine Kringle and where to buy it, O&H Danish Bakery has all the Christmas flavors you need to keep your holiday table full and your guests happy.
We believe in sharing the good life at Christmastime and throughout the year. Visit us in one of our Racine stores or order Kringle online - either way, you'll get to enjoy these easy Christmas desserts and experience our quality, tradition, and family service for yourself. This year celebrate like the Danes - with a focus on the good life. We wish you a very happy holiday season and hope you'll make our authentic Danish Kringle one of your new family traditions or a repeat treat at your family's table.