Halloween Chocolate Treats to Wake the Dead
---
By Eric Olesen - 3rd generation owner
Thursday, October 7, 2021
While trick-or-treaters are out prowling the spooky jack-o-lantern lit neighborhoods hunting for the best sweets, we dedicate ourselves to making mouthwatering chocolate Halloween treats and desserts to share with family and friends. The decadent scent of our chocolate pastries baking to perfection rivals the heavenly aroma of pumpkin seeds and cinnamon-dusted apples, making for a delicious and fun alternative to the candy brought home by the kids and grandchildren. Whether you're giving snacks to the entire neighborhood or sharing with the family, we have just the thing for any Halloween celebration!
Wicked Good Kringle
When trick-or-treating rose to popularity in the 1930s and '40s, children received a wide variety of goods, from homemade cookies and slices to fruits and toys. Over the years, the convenience, affordability and safety of handing out wrapped candy as Halloween sweets to costume-clad kids became the most suitable option. However, we love creating homemade Halloween chocolate treats to share with our neighbors, grandchildren, family and friends, and our Wicked Good Kringle is perfect for little hands to take on the go. We fill this spook-tacular Kringle with tasty Midnight Chocolate filling, and top with smooth chocolate icing and Halloween sprinkles for a wickedly indulgent treat.
Day of the Dead Cake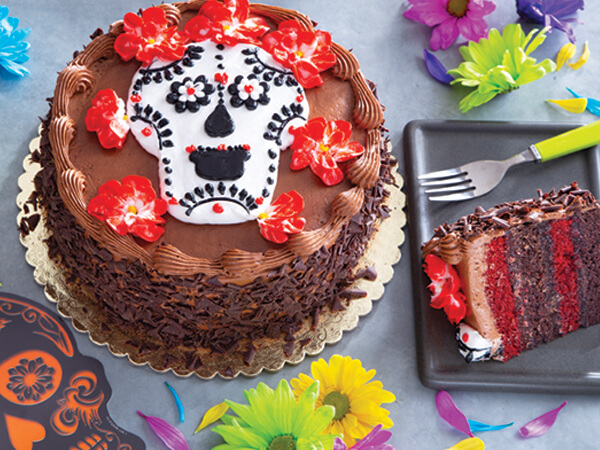 Paying homage to the Mexican celebration, Día de Los Muertos, or Day of the Dead, our scary Halloween chocolate cake won't seem so frightening when you realize how good it tastes. We fill this red velvet and chocolate layer cake with decadent dark chocolate silk, then finish it off with a hand-decorated calavera, or a human skull representation associated with Día de Los Muertos, for an impressive Halloween dessert.
Creepy Crawly Crown Cake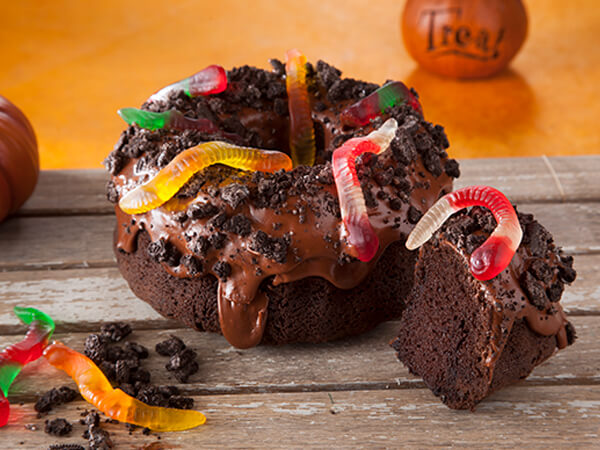 Creepy crawlies take the cake in our homage to classic dirt cup desserts! We make our incredibly moist cake with premium cocoa, chocolate chunks and creamy chocolate icing, then top with cookie pieces and gummy worms for a delicious bug and mud dessert. Snag a worm for yourself and serve this up with vanilla ice cream for a truly creepy and delicious dessert!
More Seasonal Favorites
For the few in the family who aren't enamored with chocolate baked goods, we always make sure to scare up some other seasonal flavors, like pumpkin and apple. You can't go wrong adding one (or more!) of these Harvest favorites to your dessert lineup.
Pumpkin Brownies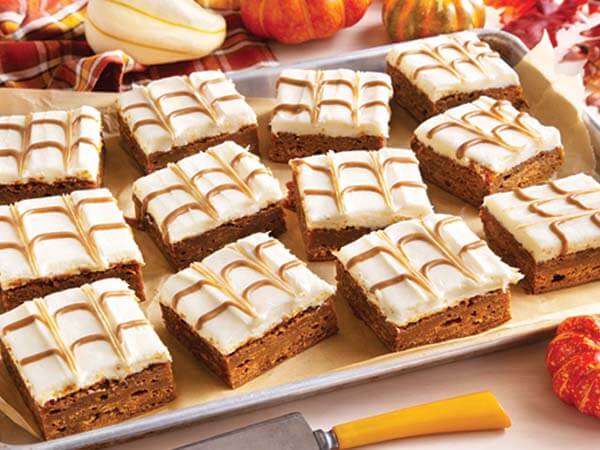 Sweet, moist and delicious are the words we most often hear when bringing out our famous Pumpkin Brownies. A thick layer of cream cheese frosting and a drizzle of caramel takes the pumpkin flavor to the next level. We like to cut these generously sized brownies into smaller pieces when we host get-togethers to give our guests a chance to try them along with a bite of everything else on the table!
Harvest Kringle
Crisp and juicy apples are the star in this Harvest Kringle with a sprinkle of cinnamon and toffee bits to add a delectable crunchy sweetness to the mix. We add even more toffee on top of our sweet icing as the finishing touch. We love to warm this one up just a tad to warm up chilly hands and empty bellies as they come in from a crisp Wisconsin fall evening.
Pumpkin Caramel Kringle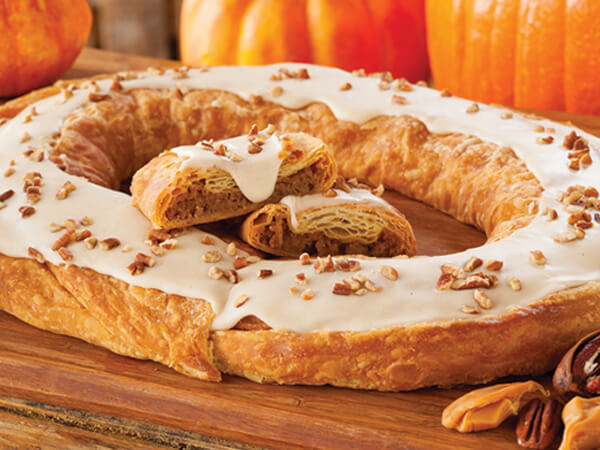 When you want to shake off the spooky feeling this Halloween, we have pumpkin, spice and everything nice! Blending caramel with our pumpkin filling and topping it with pecans and our sweet icing, this treat is one of our most popular fall desserts. Pair a slice of our Pumpkin Caramel Kringle with a warm cup of coffee for the perfect mid-trick-or-treating snack to keep you going!
Get Desserts from O&H Danish Bakery Delivered Straight to Your Door
We create quality cakes, pastries and other desserts using the finest ingredients from around the world. You can browse our selection of decadent Halloween chocolate treats and tasty fall flavors online and order for delivery straight to your door. Our flexible delivery options also mean that you can share your love for delicious chocolate baked goods with family and friends across the country or around the world.
If you're looking for more Autumn Harvest favorites, be sure to check out our September feature on apple and pumpkin bakery that's so tantalizing it will have you wishing for fall all year long, or reach out to our friendly team for more delicious ideas.