Festive Kringle and Holiday Drink Pairings
---
By Eric Olesen - 3rd generation owner
Sunday, November 7, 2021
In our family, it's never too early to prepare for the holidays. From searching for just the right presents to experimenting with new flavors in baking, sometimes it feels like we spend all year thinking about it! One of our Christmas traditions is hosting family and friends for an evening of dessert and cocktails. Putting together the perfect blend of sweet and refreshing, delicate and decadent flavors makes for a more enjoyable tasting experience — and a fun experimenting process in the weeks before! As an early holiday gift, we're sharing some of our favorite dessert and drink pairings that are sure to wow your guests.
Nordic Noel Kringle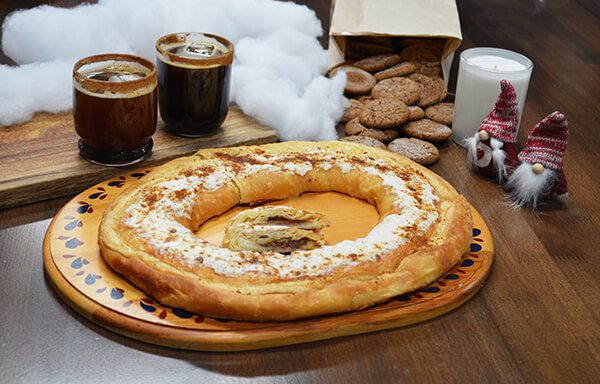 Sweet ginger cake and smooth cream cheese filling are complemented by creamy vanilla icing and ginger cookie pieces in this delightful holiday Kringle. To bring out the smooth spice of the ginger, we pair it with a Gingersnap Cocktail! You can use any gingerbread syrup at your local store or, if you're feeling ambitious, make a homemade gingersnap syrup with your preferred online recipe. Combine and shake the syrup with molasses, vodka and ice, then serve by topping off a glass with club soda. Leave out the vodka, and you'll have a winter mocktail suitable for all ages!
Santa's Secret Christmas Kringle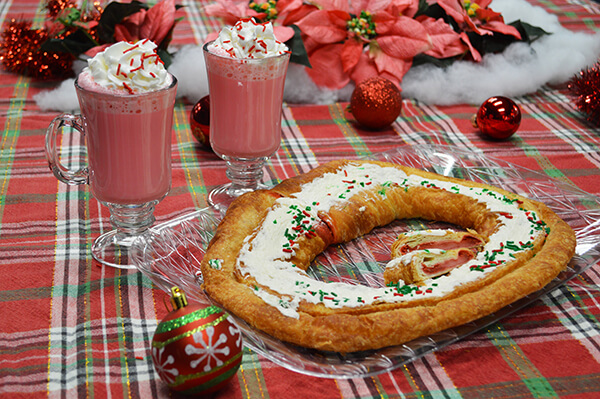 We start with Santa's secret Red Velvet cake recipe and layer that with a silky smooth vanilla pudding. Then it's all topped with our signature creamy frosting and Christmas sprinkles! We recommend you whip up a mug of Red Velvet Hot Chocolate to pair with this one as you warm up by the fire. You can add a red velvet syrup (or liqueur) to your favorite hot chocolate recipe to get that extra flavor or stir in white chocolate, vanilla and red food coloring while your hot chocolate is still simmering on the stove. A dollop of vanilla whipped cream and marshmallows is always a welcome addition!
Christmas Fudge Kringle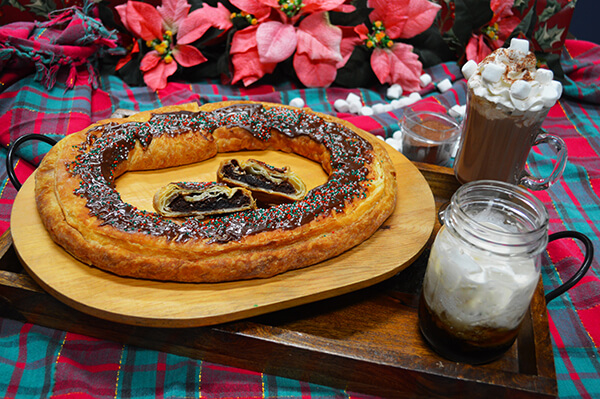 Our newest holiday Kringle, Christmas Fudge, is like a chocolate wonderland! We begin with premium dark chocolate to create our scratch-made fudge recipe — a decadent filling in our tender and flaky pastry — and then bake it to perfection. We frost it in rich chocolate icing for the finishing touch and garnish it with festive Christmas nonpareils. We've found that an equally indulgent White Russian for the adults and French Vanilla Hot Chocolate for the kids make for ideal festive holiday drinks to pair with this yummy dessert. Vodka, coffee liqueur and heavy cream are all you need for this simple cocktail, though you can always dress it up with a flavored creamer like French vanilla or peppermint. At the same time, a splash of French vanilla creamer takes a regular hot chocolate from a taste of home to ooh-la-la! Whipped cream, marshmallows and a quick sprinkle of chocolate shavings only add to the decadence.
A Very Danish Christmas Kringle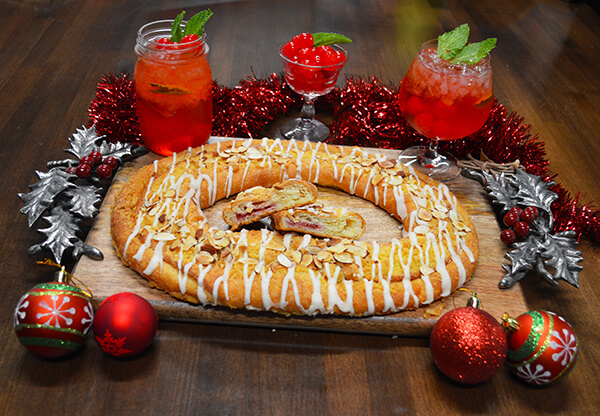 Inspired by one of Denmark's most traditional Christmas desserts called Risalamande, we make this Kringle by layering our incredibly smooth almond filling with deliciously tart Montmorency cherries. Crumbly streusel, sweet icing and slivered almonds create a beautiful and delicious topping. For a festive cherry flair, serve this Kringle up with a Cherry Christmas Cocktail. Mint leaves and cherries work as the base under your ice, then mix in a splash of vodka and cherry juice and top it off with a hard cherry seltzer, a quick substitution of regular cherry seltzer or a mix of plain seltzer and cherry juice. Skipping the vodka turns this into a refreshing Mint and Cherry Mocktail!
Brandy Old Fashioned Kringle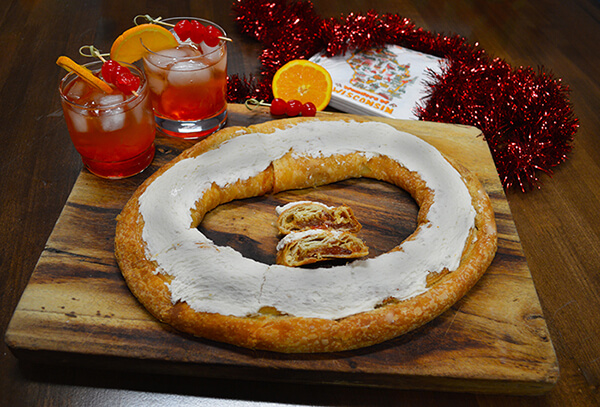 Around here, it just isn't the holidays without a classic Brandy Old Fashioned. The Kringle we made to match this drink pairing starts by combining a little brandy, caramel and cherries into our filling and then it's finished with a vanilla icing blended with orange zest for a true Wisconsin experience. Brandy Old Fashioned starts with a muddle of sugar and bitters before adding the obvious — brandy — along with ice and orange slices and cherries to garnish. If you find the brandy a bit strong, you can top it off with a lemon-lime soda or seltzer for some extra sweetness. You can get the same experience with a Virgin Old Fashioned made with barley tea. Steep the tea in the refrigerator for about two hours and pour it over your muddled mixture of sugar, a dash or two of bitters and ice in lieu of brandy. And don't forget the oranges and cherries!
Creating Your Own Pairings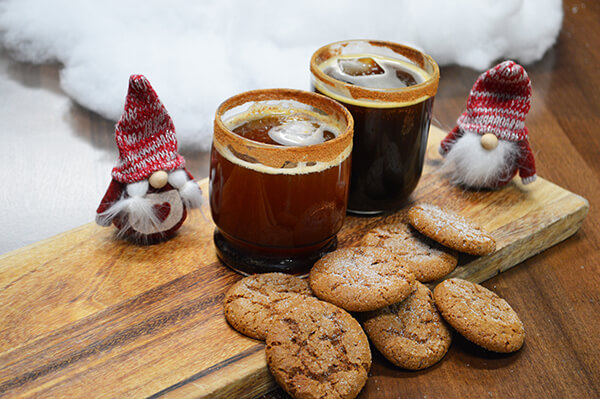 The most important part of pairing drinks with your bakery is that you enjoy it, so don't be afraid to experiment. If you prefer wine, you can match a slightly sweeter vintage with almost every sweet treat on our menu for delicious wine and dessert pairings. You may find that a dark ale or bubbly champagne can complement a fruit-based Kringle, while a Hot Toddy may be the perfect mate for a heavier pumpkin flavor. The only limits are your imagination and taste buds!
Get Holiday Desserts From O&H Danish Bakery Delivered Straight to Your Door
For a yummy dessert and drinks to enjoy this holiday, browse our selection of delicious pastries. You can place your order online and have them delivered to your door, so all you need to do is mix up a batch of your favorite drink, then sit back and savor the tasty flavor combination.