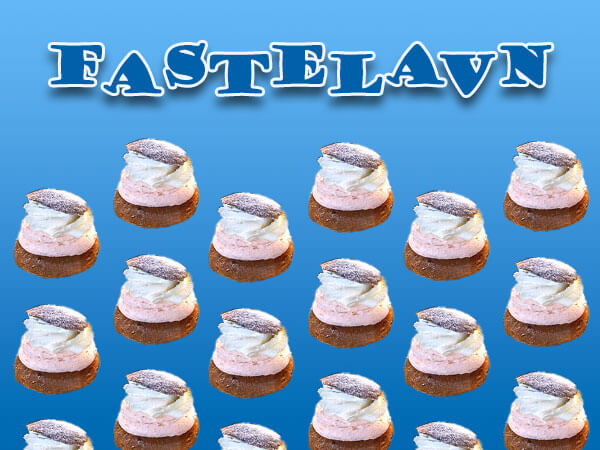 Fastelavn: Danish Carnival Traditions
---
By Eric Olesen - 3rd generation owner
Tuesday, February 15, 2022
What is Fastelavn? It is most easily explained as a combination of Halloween and Carnival, where Danish families, friends and communities come together to celebrate with games, costumes, food and other fun traditions. Fastelavn (fast-eh-LAOON) comes from the German word "Fastelabend" — which means "the evening before the fast" — and is translated into English in many ways, including Shrovetide, Shrove Tuesday and Carnival. Celebrated the Sunday, Monday and Tuesday before Ash Wednesday, Fastelavn is a Danish tradition of pre-Lenten revelry that has stood the test of time.
Costumes
Costumes are central to the festivities, especially in schools and daycares. Children celebrating Fastelavn in Denmark dress up and go door-to-door singing and in search of Fastelavnsboller (traditional sweet buns), candy or money in exchange for not causing mischief. The parallels to Halloween have doubled the fun throughout the year for many families who also adopt the American tradition of trick-or-treating!
Fastelavnsboller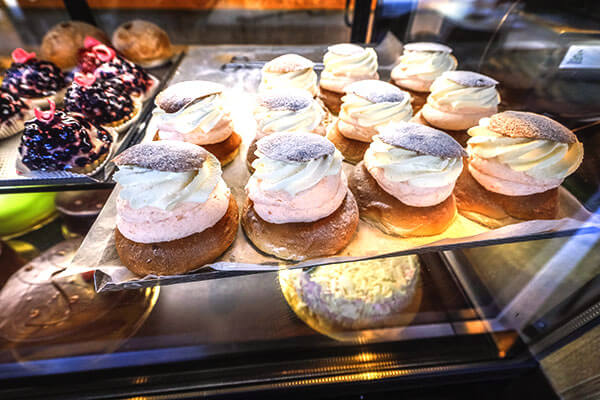 Any Dane can tell you about their family traditions surrounding Fastelavnsboller, the delicious, sweet buns sold in bakeries in every town. They are typically filled with cream or jam and topped with icing — our family is particularly fond of those with lingonberry jam!
Games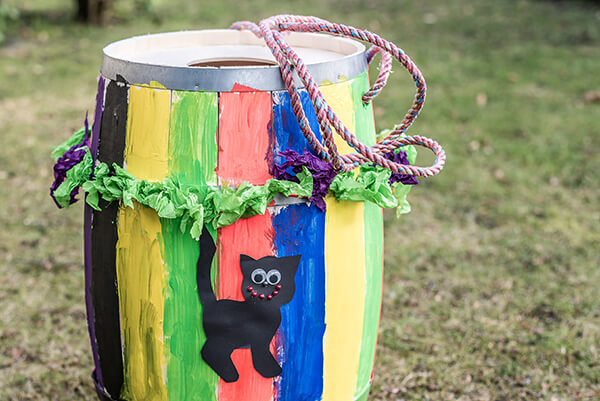 Knocking the Cat Out of the Barrel (Slå katten af tønden) is a staple of any Fastelavn celebration. Traditionally, an actual cat (associated with evil) was placed in the barrel so that you were literally beating out the evil in preparation for Lent and Easter. Nowadays, this Fastelavn tradition includes a wooden barrel filled with candy and decorated, often with images of black cats, for children to hit with a bat. The "Queen of Cats" earn their title by being the first to break the bottom of the barrel, allowing the candy to spill out. The "King of Cats" is the person who breaks off the last board of the barrel. In the end, candy is divided equally among the children who participated.
Bakery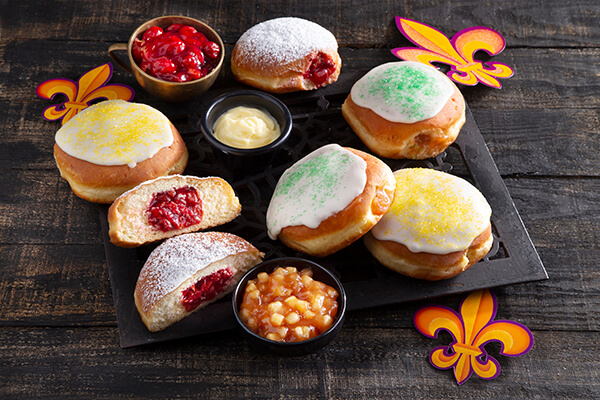 While we love our own Danish Fastelavn traditions at this time of year, we also take inspiration from the other communities in Wisconsin, such as the Polish and French. You'll find a delicious mix of flavors and cultures in our Mardi Gras bakery offerings — it'll be hard to pick just one!
Paczki Mardi Gras Package
You don't need an excuse to enjoy our decadent doughnuts, but they do make the perfect pre-Easter and pre-fasting treat. Taking inspiration from the traditional Polish Paczki (POHNCH-kee), we create quality soft doughnuts then fill them with various homemade fillings. You can try a bit of every flavor as our package comes with six assorted Paczki, two Apple, two Lemon Custard and two Cherry. Any celebration will be extra tasty when you serve these mouthwatering treats!
King Cake Kringle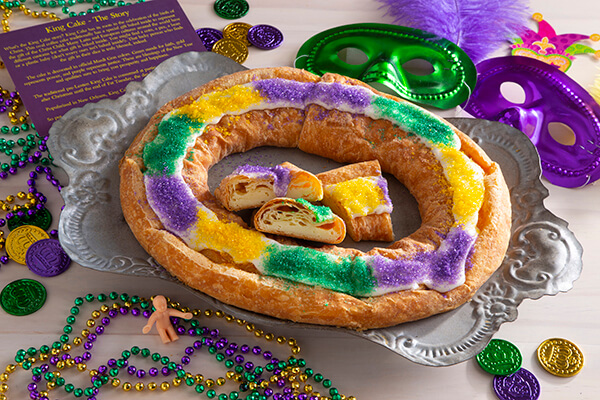 Decorated in official Mardi Gras colors — green for faith, gold for power and purple for justice — our King Cake Kringle is a cream cheese-filled dessert that is sure to be the star of your celebration. We make this treat extra fun by including a string of beads, a plastic baby and the King Cake story so you can share some knowledge with your family and friends.
Almond Kringle
Much-loved by our customers, our traditional Danish Almond Kringle is a yummy addition to your Fastelavn or Mardi Gras Festivities. We use the traditional methods of Old Denmark to make our 36-layer pastry over 3 days before adding smooth almond filling and sweet icing to create a decadent treat. It's not hard to see why this Kringle is still as popular as when our grandparents first made it 60 years ago.
Sinful Chocolate Eclairs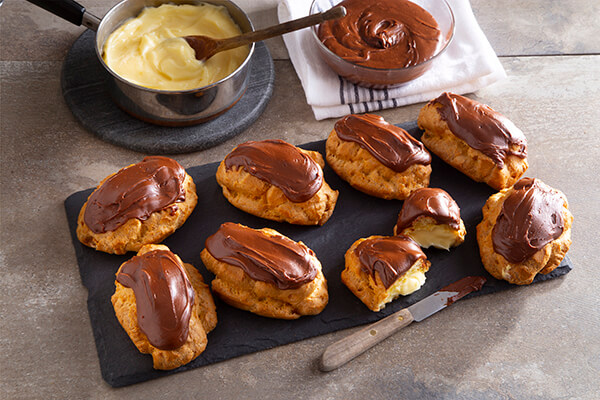 Looking for something to satisfy your chocolate cravings? Our Sinful Chocolate Eclairs start with freshly baked, crispy light pastry shells packed with cool butter-sweetened custard cream that we then cover with a thick layer of smooth chocolate fudge.
Get Desserts from O&H Danish Bakery Delivered Straight to Your Door
Whether you're preparing for Lent or simply embracing the festivities, we can help you find the perfect sweet treat or dessert to complement your celebration. We have a delicious array of pastries and cakes to choose from and a friendly team on hand to recommend their favorite Kringle or cake flavors. Browse our range online and order for delivery to your door with our flexible shipping options.