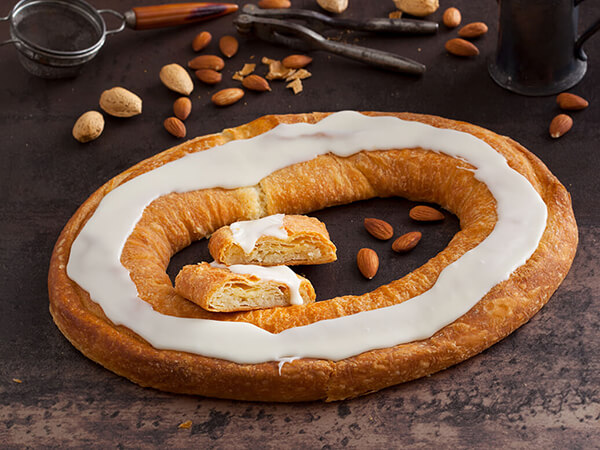 Hanukkah Kosher Desserts
---
By Eric Olesen - 3rd generation owner
Sunday, November 20, 2022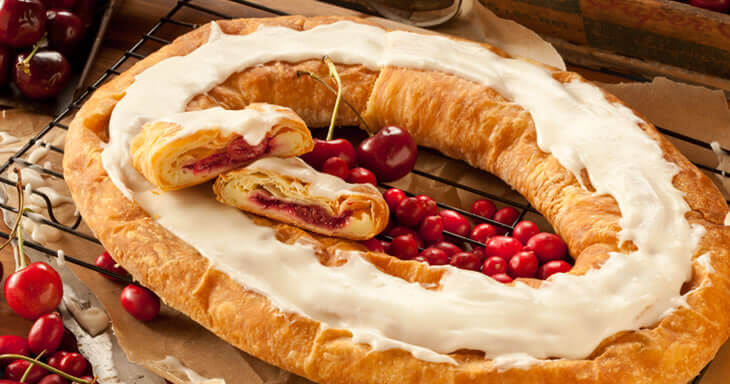 When celebrating the holidays, you can make your gathering with family and friends even more special with delicious kosher pastries and pies. We have a wide selection of Hanukkah desserts, so you can serve a tasteful array of sweet delights across the entire eight days of observing the festival. The Chicago Rabbinical Council (CRC) endorses our kosher bakery, and we label our products proudly with the CRC symbol.
Almond Macaron Kringle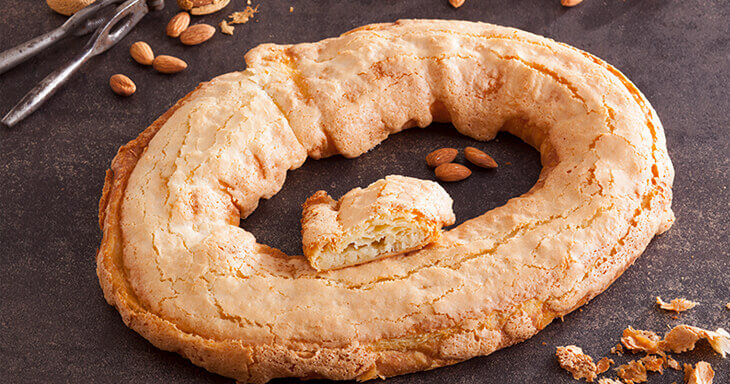 You can start your festive celebrations with our simple yet yummy Almond Macaron Kringle. This flavorful dessert features our traditional Danish almond paste filling, which we surround with our light almond batter. The batter bakes to perfection and creates a delicate shell with a crunchy almond topping for a tasty dessert. This is our owner's favorite Kringle!
Pecan Kringle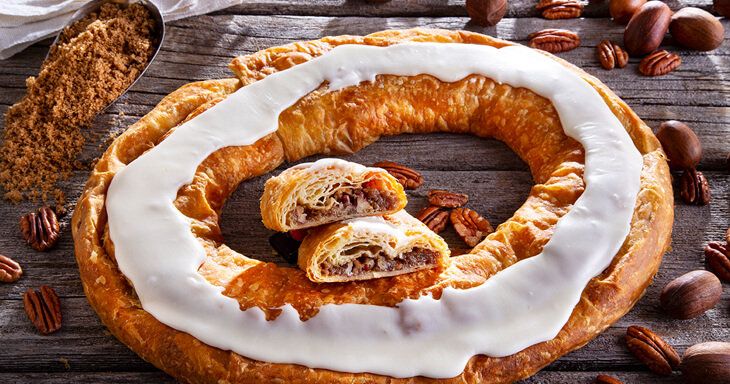 Our Pecan Kringle has been an enduring favorite at our bakery for more than 60 years and will make the perfect sweet addition to your Hanukkah feast. Packed full of fancy pecans that we blend with cinnamon and brown sugar, one bite of this yummy crispy pastry will have you wanting more.
Turtle Kringle
Our Turtle Kringle is the ideal dessert to serve a crowd over Hanukkah. You can cut this yummy Danish pastry into even serving sizes, so everyone gets a taste of this flavorful treat. Our light and crispy pastry surrounds creamy caramel-drenched pecans and homemade chocolate sauce filling. The semisweet chocolate topping and sprinkle of pecans are sure to satisfy anyone's sweet cravings.
Apple Kringle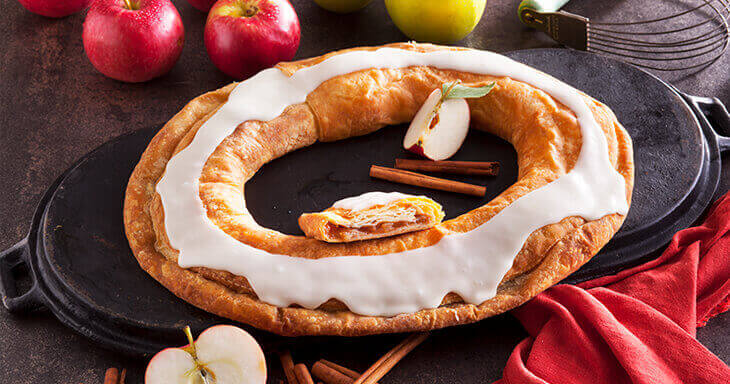 If the delightful aroma of cinnamon apples reminds you of your childhood Hanukkah celebrations, be sure to warm our tasty Apple Kringle in the oven before serving it to your family and friends. Our delicious scratch-made filling crafted with crisp Michigan apples is sure to be a popular choice for your festivities.
Other Baked Goods From Our Kosher Bakery
Sweet Rolls With No Added Salt or Sugar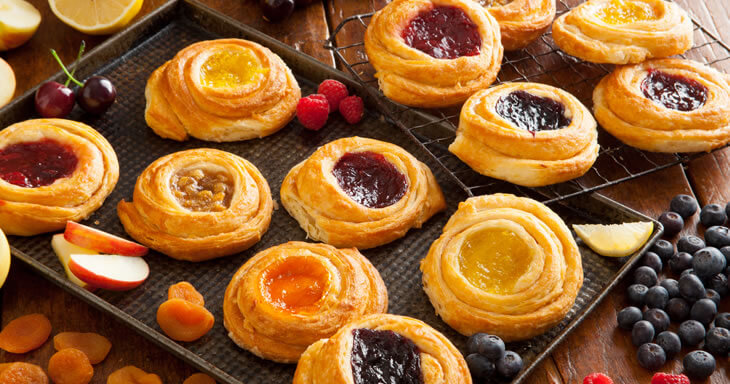 A delicious alternative to Hanukkah cakes, our sweet rolls bring ease and simplicity to what can be a hectic season. Even with no sugar or salt added to these delicious rolls, they remain tender and flaky for a mouthwatering treat. Your guests will also enjoy the assortment of fruit toppings, which will make for a beautiful display on your festive table.
Sinful Chocolate Eclairs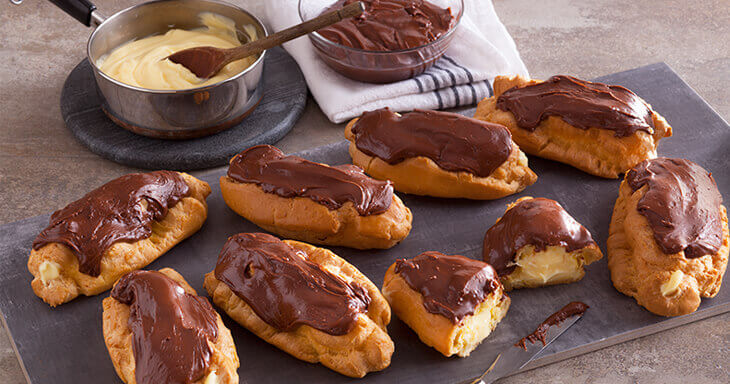 These luscious, butter-sweetened, custard cream-filled treats will look and taste impressive on your Hanukkah table. We cover our crispy and light pastry shells with a thick layer of smooth chocolate fudge to ensure our Sinful Chocolate Eclairs live up to their name. They also make for the perfect kosher dessert delivery that you can order beforehand, freeze, and thaw when needed.
Dark Chocolate Croissant Pie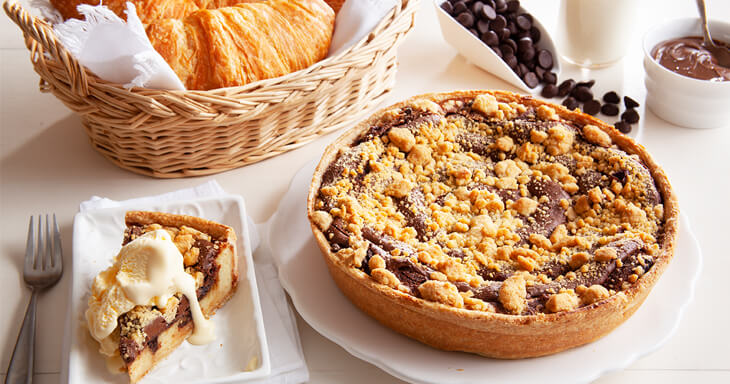 Our bread pudding-style pie will not disappoint on presentation or flavor. A cinch to transport, our Dark Chocolate Croissant Pie is made with buttermilk-, cocoa-, and cinnamon-soaked flaky croissant pieces. We then place these into a pie crust before adding dark chocolate chunks and filling with a creamy and smooth hazelnut spread. Lastly, we top this decadent treat with crumbly streusel for a wonderfully indulgent pie everyone is sure to love.
Cinnamon Seven Sisters Coffee Cake
We know that olive oil and jelly doughnuts are traditional Hanukkah desserts, yet when you want something that's not deep-fried, try our Cinnamon Seven Sisters Coffee Cake. We use a delicious blend of sweet cinnamon and silky-smooth cream cheese to create our irresistible tender Danish pastry spirals. The custard-filled centers make these sweet pastries even more special, so be sure to get one quick before everyone else eats them.
Order Hanukkah Desserts Online from O&H Danish Bakery
Whether you need kosher desserts for Passover, Hanukkah, or any other Jewish festivities, you can find a wide assortment of delicious treats at our bakery. We use the finest ingredients, time-honored baking techniques, and traditional Danish recipes to create our range of yummy Hanukkah pastries, cakes, Kringles, cookies, and more. You can readily order your desserts for Hanukkah online and store them in your freezer, so you are well prepared for any future event. Reach out to our friendly staff if you have a custom order or any questions about our baked goods.