Best Desserts for Family Gatherings, Reunions, and Potlucks
---
By Eric Olesen - 3rd generation owner
Sunday, October 9, 2022
One of the best things about family gatherings is enjoying great conversation over delicious food. In fact, the Danes have a word they use to describe this ultimate comfort: It's called hygge (pronounced "hoo-gah"). Whether you're going to a family reunion, birthday celebration, or seasonal gathering such as a Christmas feast, our list of yummy, crowd-pleasing dessert ideas for potlucks will surely impress and deliver the true essence of hygge. From decadent layer cakes to fruit-filled Kringles, we have something to suit any occasion and every sweet taste bud.
Royal Scandinavian Collection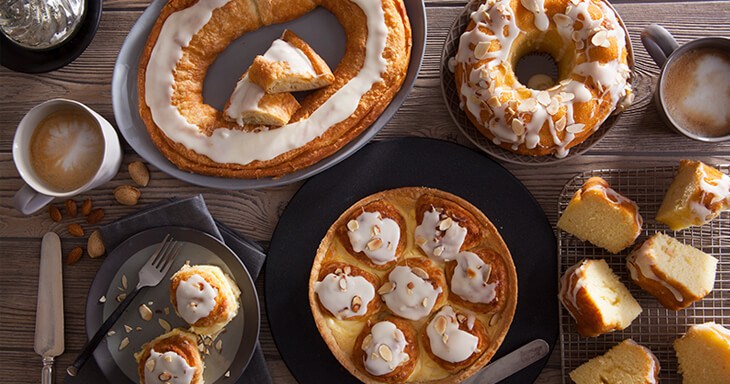 You can't go wrong with taking our popular baked pastries to your holiday potlucks. You can feed a large crowd with our flavorful almond items, as you can cut these treats into numerous serving sizes to suit your occasion. If you're going to a mixed-generation gathering such as a family reunion, anniversary, or Thanksgiving celebration, our Royal Scandinavian Collection (which includes the Almond Kringle, Almond Custard Seven Sisters Coffee Cake, and Scandinavian Almond Crown Cake) is the perfect dessert to take along for everyone to enjoy. Even if you can't be there in person, you can get each separately packaged item delivered fresh to your doorstep, so you can take orders and have each family member choose their favorite for pickup!
Fudge Layer Cake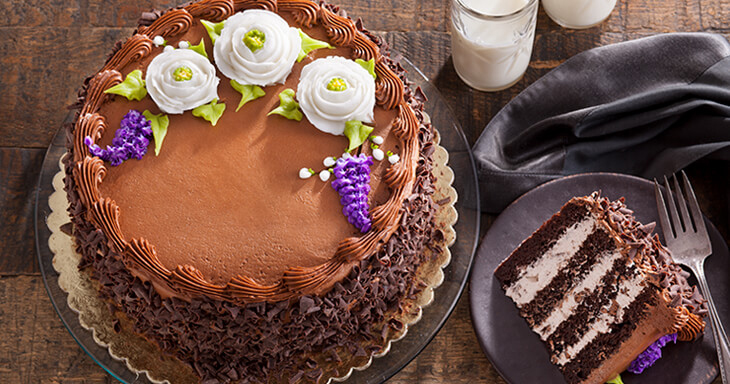 A cake is always an excellent option when you need an easy dessert for a potluck. Our Fudge Layer Cake will suit any setting or family gathering. Hand-decorated with chocolate buttercream frosting and topped with a floral design, this cake will look impressive sitting on any dessert table. And because its layers are filled with generous ribbons of chocolate silk mousse, you can be confident that everyone will get a piece with the perfect bite.
Valhalla Brownies
If your family includes chocolate and caramel lovers, you will get the best of both with our decadent Valhalla Brownies. Whether you're hosting a gathering in the backyard or need potluck sweets to take to the office, our eight large triple-layer brownies will suit any setting, indoors or out. Each brownie features a smooth caramel center and comes topped with vanilla bean icing or fudge frosting. The hardest part will be trying not to swarm the dessert table all at once.
The Three Kringleteers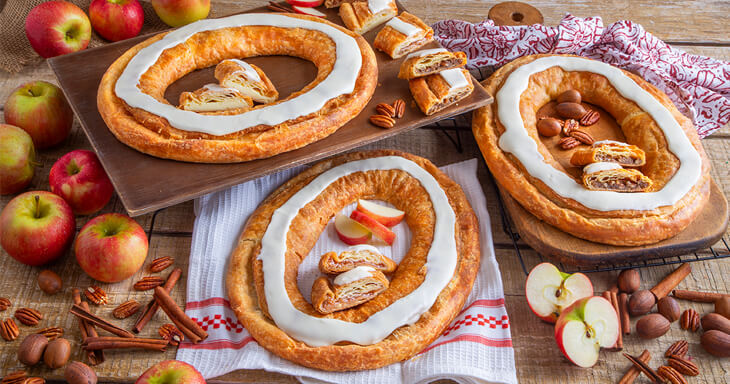 Our traditional Kringle flavors are sure to please everyone when you need fast and easy desserts for family gatherings with kids and adults. You can cut up our Pecan, Apple, and Cream Cheesecake Kringles for people to help themselves to individual portions and have them set out so you can relax and enjoy your family's company. We also think that any time is a good time for dessert, so whether you're hosting a brunch, lunch, or dinner gathering, our Three Kringleteers will make for the perfect sweet treats.
Pair of Pairs
Can't decide which desserts are best for family reunions or seasonal gatherings? We've paired up our two most popular treats, so you can order with ease. The Pair of Pairs features our award-winning Pecan Kringle, a crowd favorite among kids and the young at heart. At the same time, our Seven Sisters Coffee Cake with creamy almond filling and silky custard is sure to impress more mature palates.
Birthday Kringle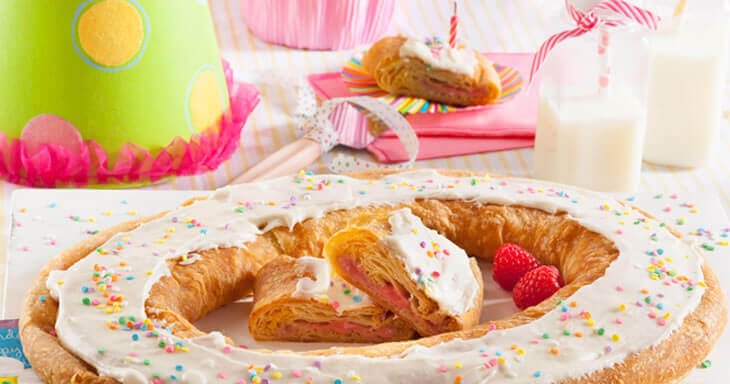 Our Birthday Kringle is a scrumptious celebratory treat for any age. You won't be disappointed when you forgo the traditional annual dessert with these birthday cake alternatives that offer a decadently rich, crispy, and buttery pastry with creamy custard and raspberry jam filling. We even cover them with smooth icing and colorful sprinkles, so they look like a party treat — all you have to do is add the candles! Our Kringles are large enough to serve 12; for larger crowds, consider ordering two Kringles.
Order Desserts for Your Next Family Gathering from O&H Danish Bakery
Whether you love to plan or leave things to the last minute, a yummy dessert from O&H Danish Bakery will not disappoint. You can readily order your favorite treat online and store it in your freezer until the special day or collect it on the way to your family gathering. Reach out today if you have questions or need a custom decorative design for your gathering!