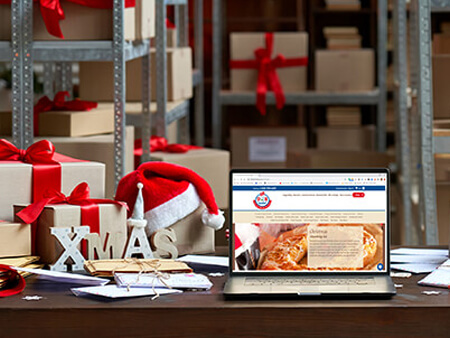 Edible Gifts Under $50
---
By Eric Olesen
Monday, November 30, 2020
Food has a great way of bringing family and friends together and allowing you to enjoy each other's company over a delicious plate of tasty goodness. For those times you want to celebrate a special occasion, share the Christmas spirit, surprise a co-worker with a yummy treat, or remind someone far away that you are thinking of them, we have a selection of unique food gifts that you can send. As the weather starts to cool for the fall season, you can give a delicious apple dessert from our bakery or consider one of our tasty treats below.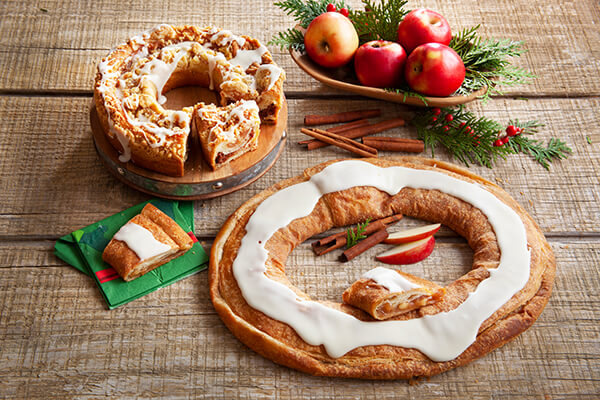 Christmas From Wisconsin
Christmas dessert gifts are a perfect present to send to loved ones near and far, which is why we created our perfect A Very Danish Christmas Kringle. Made with 100 percent Wisconsin cherries and smooth almond filling, you can share a little bit of magical Wisconsin Christmas with everyone. Beautifully decorated and with a total of 12 servings, there is plenty of this tasty dessert to go around.
Aebleskiver Breakfast Package
The best edible gifts are often about traditions and memories. That is why our Aebleskiver Breakfast package is a sure winner. Featuring our traditional Aebleskiver mix, Scandinavian Lingonberries and fair-trade Gokstad coffee, your recipient will appreciate this package when they create memories by making our Danish buttermilk pancake balls with their family by their side, sipping a hot and fresh cup of coffee.
Christmas in Copenhagen
Selecting edible gifts for delivery is an excellent time to think of indulging someone, and that is exactly what you get with our Christmas in Copenhagen Crown Cake. Our classic vanilla and cream cheese crown cake is freshly baked, then doused in delicious chocolate ganache before we finish it off with white chocolate Christmas trees. After one bite, it will be hard to resist eating the entire cake all in one go!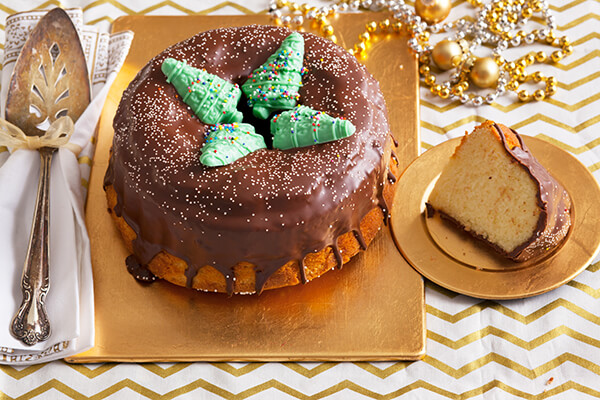 Old Fashioned Fruit Cake
A dessert delivery of Brandy Old Fashioned Fruit Cake will make anyone reminisce about Christmases at Grandma's. We make this moist, holiday treat using Grade A Wisconsin butter, rum soaked raisins, premium brandy, fancy pecan halves and chock-full of quality fruit. This is the perfect edible gift for the fruit cake lover in your life.
White Christmas Crown Cake
If you are looking for a gift under $50 that's sure to satisfy taste buds, look no further than one of our delicious Danish crown cakes. Everyone will enjoy the smooth flavor of our soft and decadent White Christmas Crown Cake made using our family eggnog recipe, drizzled with icing and a dash of nutmeg. It's a cup of cheer, in cake form!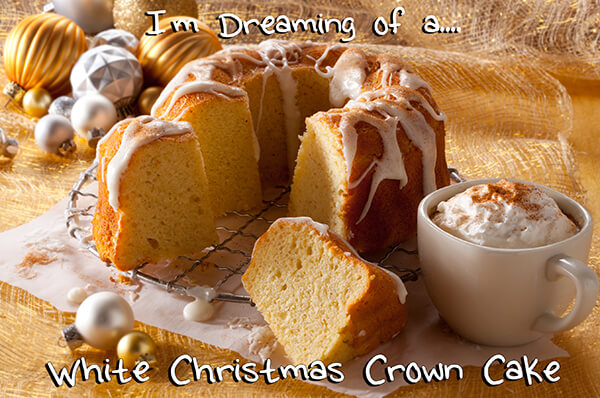 Santa's Secret Christmas Kringle
If you're embracing the Christmas festivities and the excitement that Santa is on his way, then share the spirit by sending our Santa's Secret Kringle. This Christmas dessert is filled with red velvet cake and silky smooth vanilla pudding and topped with creamy icing. These Danish sweets are high on the list of favorite gifts to receive!
Pie for Christmas
Send a piece of home to your loved one with this Merry Cherry Christmas Pie. While warming up in the oven, the sweet aroma of Door County Cherry filling and smooth almond cake will remind anyone of home and the fun memories of spending many Christmases with family.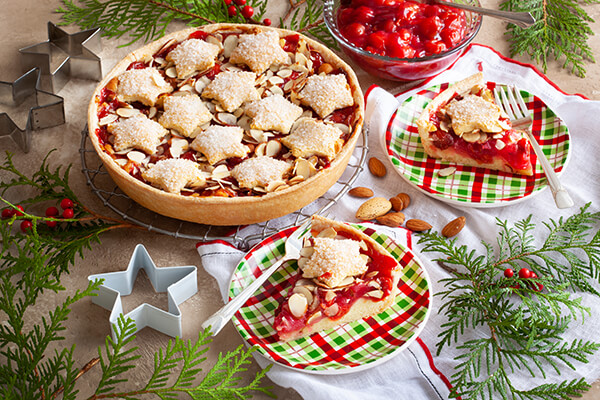 Order Unique Food Gifts Online from O&H Danish Bakery
When you're looking for the best desserts to order online, our bakery has the perfect selection of yummy sweet treats made with the finest quality ingredients and authentic Danish recipes. We have a range of gift bundles and flexible shipping options to make it easy for you to send an edible gift to those you love. Reach out to us with any questions, and our staff will guide you through our tasty desserts so you can send the perfect edible gift.