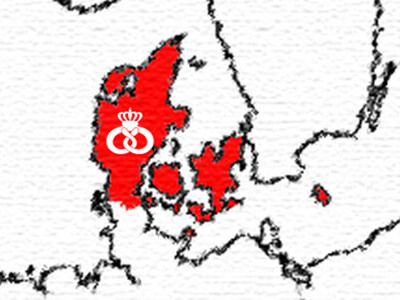 Celebrate the Danish Heritage with a Denmark Day Kringle
---
By Eric Olesen - 3rd generation owner
Sunday, April 5, 2020
Whether you come from a Danish family or simply love Danish food, O&H Bakery proudly prepares delicious sweet treats that help you to experience a taste of Denmark from the comfort of your home. We developed the concept of I Heart Denmark to not only celebrate our Danish heritage but also share it with our customers.
The History of I Heart Denmark
The Kingdom of Denmark is a beautiful country filled with a rich history - one that has impacted the entire world. Denmark was home to Hans Christian Andersen, the author of beloved fairy tales including Thumbelina, The Little Mermaid, and The Snow Queen. Denmark was also home to Dagmar Olrik, who is well-known throughout Europe for his exquisite weaving and tapestry creations. The silent movie area certainly would not have been the same without the presence of Ebba Thomsen, a silent movie star from 1910 to 1952.
Denmark maintains a constitutional monarchy that is similar to the United Kingdom. Margrethe II is the Queen of Denmark. Queen Margrethe II has served as the head of the Church of Denmark and the Danish Defence since she came into power in 1972, becoming the first female monarch of the country since the late 1300s. During her reign, Queen Margrethe has taken an active stance towards the well-being of her country by working hand-in-hand with the Council of State on essential legislation.
We commemorate our I Heart Denmark celebration around Queen Margrethe's birthday. Margrethe II was born on April 16, 1940, so our I Heart Denmark promotion occurs in mid April. On rare occasions, like when Easter is late in the calendar, we do begin our I Heart Denmark campaign in June which is Danish Constitution Day, so we always encourage our customers to check in with us regularly so that they know exactly when to place this particular order. When you stop into our bakery for a little hygge to go during our I Heart Denmark celebration, you can also take the time to sit down and relax with a hot cup of free coffee as you celebrate.
A Family Tradition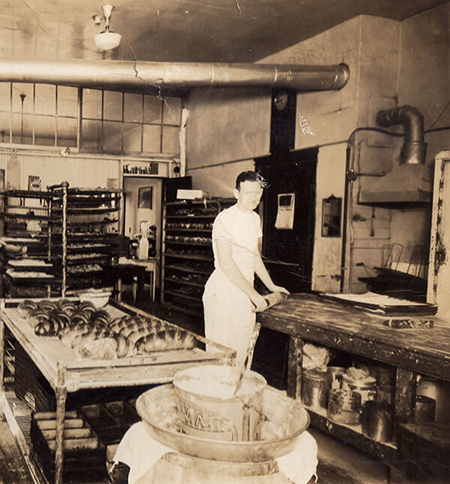 Our unique Kringle recipe is a direct result of our family's Danish roots. Our ancestor, Anton Olesen, founded O&H Bakery. After a hard life in Denmark, Anton decided to immigrate to America in search of a new and better life. In 1921 at the age of 47, he settled in Racine, Wisconsin. It was not until Christmas of 1923 that Anton had finally saved enough money to bring his family over from Denmark. At that point, he took on a job that he could enjoy at a local bakery.
Anton's son, Christian, developed a love of baking. In 1949, he opened his bakery with the help of his partner, Harvey Holtz. As a result of that partnership, O&H Bakery was born. Although our bakery has grown and changed since its inception, our team remains committed to providing our customers with incredible Danish desserts.
Kringle Collection
We have a wide range of delicious Kringle flavors to suit any sweet tooth. Every aspect of our Kringle is homemade, from the flaky crust to the mix of fillings. Each Kringle takes approximately three days to make, and we bake them all with love. Here are some of our popular Kringle flavors.
We bake our Apple Kringles using delicious Michigan apples and a touch of cinnamon. This kosher-certified treat is large enough to serve up to 12. We top it with our signature icing for an extra pop of sweetness.

Our Cherry Kringles use incredible freshly-picked cherries from Wisconsin Door County, which are recognized around the world for their distinct taste. Combine a Cherry Kringle with a warm cup of tea, and you've got an ideal snack for any time of the day.

If you love cream cheese, then you are sure to enjoy our Cream Cheesecake Kringle. This dessert incorporates Wisconsin cream cheese with our signature Kringle recipe, and it has quickly become one of our best-sellers.
Our Unique Selection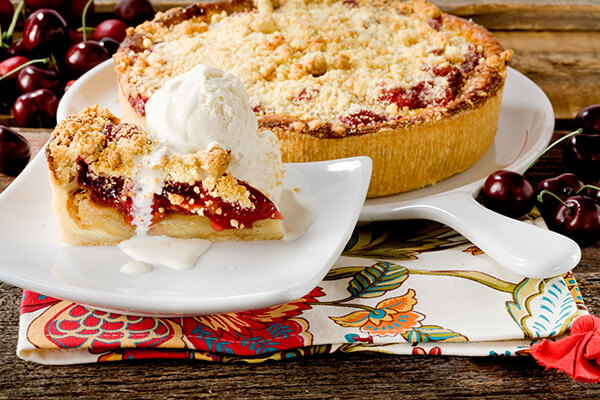 Although our Kringles and Risalamandes take center stage in April, our bakery offers a unique variety of scrumptious goodies throughout the year. Whether you need a delectable treat for a special event or a relaxing dinner with your family, O&H Bakery offers plentiful and diverse dessert options.
Our Danish Layer cake is well-known for its variety of homemade jams and sweet custards coated between yellow cake. This cake can serve up to 15 people, which makes it ideal for a family gathering. Don't forget to include a "Happy Birthday" message to the person of honor.
About O&H Bakery
As a family-owned company, O&H Bakery loves providing customers with a delicious selection of sweet treats that friends and loved ones are sure to enjoy. Whether you need a Denmark Day Kringle or a traditional Danish layer cake, you can rest assured that you will experience a delicious bite with every mouthful.
We love interacting with our customers to ensure that our pastries meet their needs. If you have any questions, we are always happy to take the time to speak with you. We look forward to celebrating our Danish heritage with you!