Thanksgiving Desserts Everyone Will Love
Saturday, November 2, 2019 by Eric Olesen - 3rd generation owner
As we move through November, the daylight hours dwindle, the chill in the late autumn air nips, and suddenly the winter holiday season is upon us. While we rush here and there preparing, Thanksgiving Day gives us the chance to slow down and remember all there is to be grateful for in life. Family and friends will gather around the table once again to share our favorite Thanksgiving foods and family recipes, filling our homes with the warmth of our gratitude and love.
Whether you are hosting the dinner or attending a celebration, there is no better way to sweeten the joy of the holiday than with delicious, scratch-made Danish desserts prepared using traditional recipes that have been passed down from generation to generation. We have scrumptious Thanksgiving desserts for kids and adults to enjoy from our signature flaky, filled Kringles to pies, brownies, and Danish layer cakes. At O&H Bakery, you'll find something everyone will love!
Award-winning Kringles Made with Thanksgiving Flavors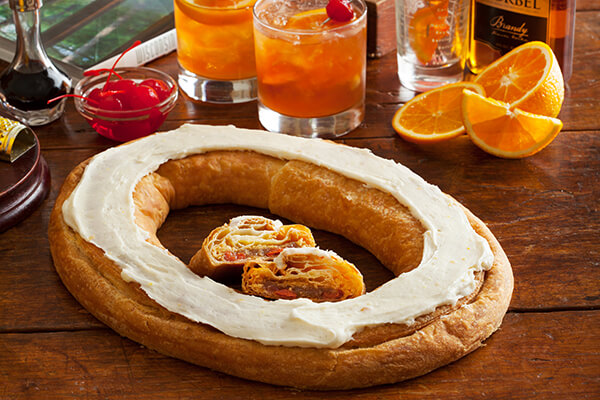 Honored as Wisconsin's official state pastry, we have been baking Kringles the traditional way at O&H Bakery since 1949. Our buttery dough is carefully rolled out over three days to create a decadently flaky, dense, 36-layer pastry filled with the finest ingredients, with over dozens of mouth-watering flavors available. Our most popular classic Kringle flavors include favorites such as the Pecan Kringle, Raspberry Kringle, Wisconsin Kringle, and the traditional Almond Kringle.
Our hands-down favorite at this time of year is the Thanksgiving "Stuffed" Kringle, which combines the traditional Thanksgiving flavors of cranberry and buttery pecan pie. The oval-shaped pastry, loaded with sweet, tart cranberries and pecans, weighs in at around two pounds, making it truly "stuffed" with extra filling and it ensures that every bite is bursting with flavor. If you've got dessert cover, it's great for pre-Thanksgiving brunch (or post-Thanksgiving for guests!) and enjoy it the morning after with a hot cup of coffee, the Danish way.
The Pumpkin Caramel Kringle is another Thanksgiving favorite made with silky smooth Grade A pumpkin, spices such as cinnamon and ginger, pecans, smooth caramel filling, and topped with a frosted glaze for extra sweetness. This one is sure to be a crowd-pleaser. Serve warm and watch for the look of delight on your guests' faces as they take their first bite of this seasonal delight.
For something different, try our Brandy Old Fashioned Kringle, inspired by the classic Wisconsin cocktail that warms you from the inside out. This Kringle filling is made with a touch of brandy, creamy caramel, and delicious cherries topped with vanilla icing blended with orange zest for a delicious flavor combination that is sure to delight any palate.
Kringle Gift Packages, Pies, Layer Cakes, and More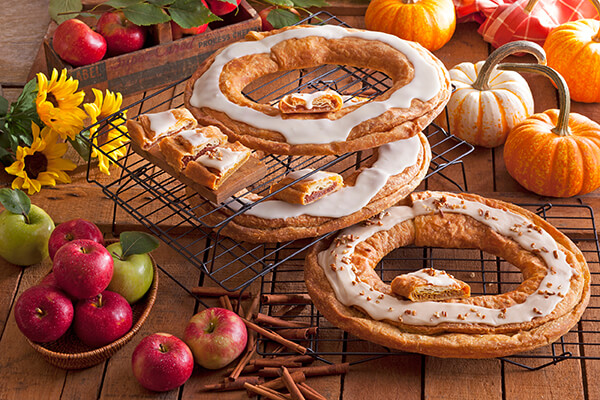 At Thanksgiving, we come together to celebrate the spirit of the season by sharing delicious food, a universal expression of love that unites families, friends, and communities. At O&H Danish Bakery, we find comfort in this time of year when the aroma of fresh-baked Kringles, apple pies, crown cakes, bread pudding, and brownies fills our home and bakery. We're confident that you will find the perfect sweet treat for your holiday gatherings and gifts among our selection of Danish pastries and desserts.
If you don't know how to choose just one Kringle for Thanksgiving, you can choose from the Kringle combos and gift packages we crafted with complementary flavor combinations sure to please a range of tastes. Keep it simple with our Three Kringleteers package, a trio featuring traditional flavors: the ever-popular Pecan Kringle, the Apple Kringle perfect for kids and adults alike, and the sumptuous Cream Cheesecake Kringle filled with sweet, velvety Wisconsin cream cheese.
For a taste of that home-baked, autumn goodness, the Festival of Fall Kringle Flavors package includes the Apple Kringle, Cinnamon Roll Kringle, and the Pumpkin Caramel Kringle for a winning mix of seasonal flavors. If there are chocolate-lovers among you, try the Grand Trio, a best-seller that combines the crowd-pleasing Raspberry Kringle, the buttery Cinnamon Roll Kringle, and the Turtle Kringle, a decadent mix of rich chocolate, caramel, and pecans that will satisfy any sweet tooth.
We also prepare an array of pies, cakes, and brownies to add variety to your Thanksgiving dessert spread. One of our famous pies at this time of year is the Apple Cinnamon Kringle Pie made of buttery cinnamon layers of pastry crust filled with crisp Michigan apples and topped with sugar crystals for a delightfully sweet crunch. For the cake-lovers, we sell Fall Danish Layer Cake made with three layers of raspberry jam and custard sandwiched between four layers of moist yellow cake. We cover our cakes with buttercream frosting and hand-decorate them with a beautiful autumn motif. One of our most popular autumn treats is our pumpkin brownies that tops moist, rich chocolate brownies with signature cream cheese frosting and a drizzle of caramel. Take your pick among our decadent seasonal desserts or combine all of these for a spread that is sure to wow your guests and hosts!
Show Your Gratitude with the Perfect Thanksgiving Hostess Gift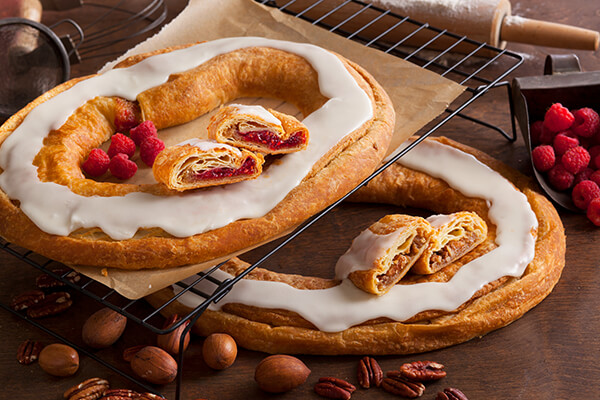 When you're attending a Thanksgiving gathering or several as a guest, you want a special gift to show your gratitude to your Thanksgiving hostess and host. What better way to say thanks than to bring or send a delicious Danish Kringle or gift package? People love showing up to Thanksgiving with a memorable dessert that will leave everyone asking for more. Whether Kringles are a tradition in your family, or you want to introduce a new dessert to your Thanksgiving, any one of our home-made Kringles will surely do the trick.
Even if your Thanksgiving meal has abundant dessert options, the beautiful thing about our flaky Kringles is that they make for the perfect comfort food to serve at breakfast the morning after the big day, as a late afternoon snack, or even as a dessert to accompany Thanksgiving leftovers. Your hostess will be delighted that you acknowledge all of her hard work with a thoughtful, tasty gift from O&H Bakery.
Order Desserts Online from O&H Danish Bakery in Time for Thanksgiving
If you are salivating at the thought of biting into one of our buttery, flaky Kringles by now, we've done our job! Get your Kringle in time for Thanksgiving by ordering online or stopping by any of our five bakery locations in Wisconsin, three of which are in Racine, just 30 minutes from Milwaukee and an hour and a half from Chicago. To get your favorite Kringles and Danish desserts for your Thanksgiving meal or to send them as a gift, place your online order sooner than later!
We guarantee two-business day delivery of our Kringles and desserts, and we offer beautiful gift boxes for Kringle gift packages you send to colleagues, customers, friends, and family to show that you appreciate them even when you can't be with them on Thanksgiving. Keep in mind that you can always refrigerate or freeze our Kringles to save for later - you'll just need to warm them in the oven to bring out their gooey, flaky deliciousness while filling your home with that wonderful fresh-baked smell.
Thanksgiving is a busy time for us at O&H Danish Bakery, and we cherish every minute of it. From the Olesen family and everyone at O&H Bakery, we whole-heartedly wish you a Happy Thanksgiving filled with warmth, love, and gratitude.