Our Favorite Coffee and Dessert Pairings
---
By Eric Olesen
Saturday, October 24, 2020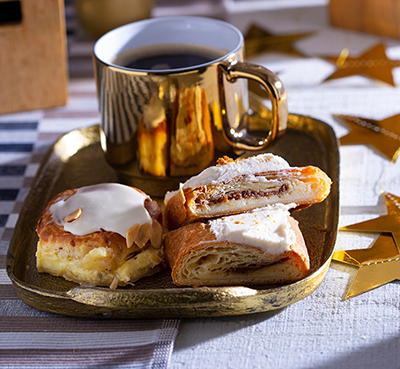 The Danish concept of Hygge is a large part of the coffee culture that has become so firmly entrenched in Scandinavian countries. Pronounced 'hue-guh', Danes use this word to refer to a moment as charming, special, and cozy. Hygge can happen whether you are out with friends or on your own at home, not as something that can be taught or learned but rather an experience. Traditionally, all good coffee should be savored without time limits or restrictions, and it's even better if you can enjoy it with a delicious dessert. A coffee house in Denmark tends to have a wonderfully inviting atmosphere, which is always a welcome contrast to the frigid scenes outdoors. An important thing to consider is what to serve with coffee.
Cheesecake Kringle
One of our most popular items, the Cheesecake Kringle, boasts its main ingredient of 100 percent Wisconsin cream cheese. Being from the dairy state, we know our cheese and we get ours from a local creamery that takes pride in this symbol of Wisconsin. If you love dessert and coffee, then this smooth, rich Kringle should be at the top of your list to enjoy with a steaming hot brew.
Chocolate Eclairs
Our Sinful Chocolate Eclairs are made of melt-in-your-mouth pastry, allowing you to savor the butter-sweetened custard cream and thick chocolate fudge topping. The contrast of smooth, rich coffee and the sweet and silky buttercream are a match made in any coffee lover's heaven. You will be tempted to enjoy more than just one of our eclairs with a cup of your favorite coffee or our Gokstad dark-roast coffee.
Dark Chocolate Croissant Pie
This decadent pie is a chocolate lover's fantasy come true. We use a buttermilk, cinnamon, and cocoa mixture to soak our buttery croissants, then add chunks of dark chocolate and hazelnut spread followed by a topping of crumbly streusel. You'd be hard-pressed to find something as good as this to enjoy with your coffee. One slice goes a long way - and it's balanced wonderfully with a scoop of vanilla ice cream!
Danish Dream Cake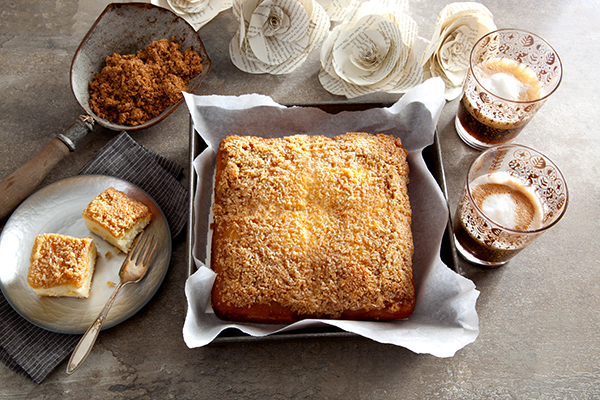 This cake is one of the most famous Danish cakes, which originates from a small town in Hjallerup in Denmark. It consists of a moist sponge cake topped with a chewy layer of coconut and caramelized brown sugar. The winner of a national baking contest in Denmark, it's famous in our homeland - with a coffee of course. What more could you want? If you're a fan of coffee and desserts, this cake will be your dream come true - pun intended.
Scandinavian Almond Crumb Cake
You will appreciate the contrasting flavors of a rich cup of coffee and the intense marzipan-like flavor of this Scandinavian treat. It is a dense, moist almond cake that is traditionally served with coffee, fresh fruit, and whipped cream. This cake is the heart of any Scandinavian home.
Pecan Coffee Cake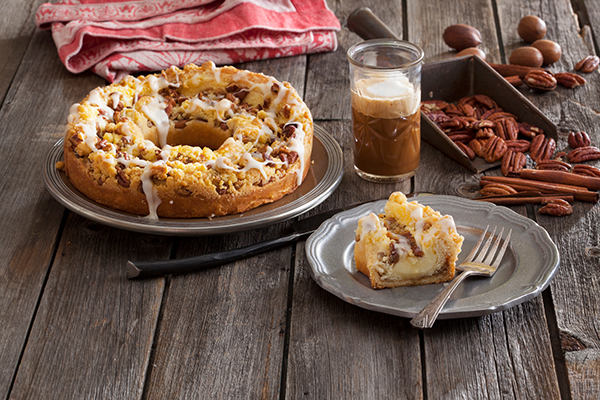 If coffee and pastries are a popular pair, then coffee and cake are too. When you get a cake that is made out of pastry, it's simply a perfect match. For this ring coffee cake, we layer our flaky pastry with custard and rich butterscotch filling, then top it all off with pecans and decadent streusel. It will be tough to resist having a second helping of this cake with another steaming cup of coffee.
Find More Desserts to Go With Your Coffee at O&H Danish Bakery
Our pastries are all made using traditional Danish methods that have been handed down for over four generations. The fillings are all made from scratch, using the finest, freshest, premium-quality ingredients. We take great pride in producing delicious cakes, bread puddings, and pastries for you to enjoy. There are very few things that are as pleasing as a good cup of coffee with a superb pastry, cake or dessert to accompany it. We have so many desserts that go well with coffee, you'll be spoiled for choice with our extensive selection. There's no need to stick to just one, though - you can buy several to try until you find the one that is perfect for you.