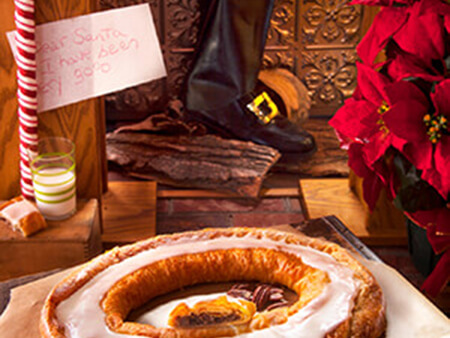 What's on the menu this Holiday?
---
By Eric Olesen - 3rd generation owner
Saturday, November 30, 2019
Hark - the winter holidays are upon us! During this time of year, life feels busier than ever as we prepare for holiday parties at work, celebrations with friends, and gatherings with our loved ones. We fill our spare time with planning Christmas food menus, putting up holiday decorations, sending Christmas cards, and buying presents for everyone on our list.
Within the exciting frenzy that surrounds the holidays, it feels as though we are always moving from task to task, checking things off only to rush on to the next. It is easy to be swept up in the hectic pace of life at Christmastime, but we must remember to take a moment to let the magic of the season wash over us-and tickle our taste buds-as we reflect on the many blessings that we have in our lives.
Indulge in a break from the holiday bustle with a warm slice of Kringle and a steaming cup of Danish Gokstad coffee to remind yourself and your loved ones what the Christmas season is truly about: sharing the spirit of giving. At O&H Bakery, we're delighted that we can spread the joy of simple pleasures through our home-baked Danish pastries, cakes, and holiday desserts.
Unique Christmas Dessert Ideas for Your Holiday Gatherings
If you are planning a party, attending one, or both, we offer dozens of Christmas desserts that will satisfy everyone's sweet tooth. Choose from a selection of scratch-made baked goods, including our award-winning Racine Kringles and our hand-decorated Danish layer cakes in many scrumptious flavors. As varied as they are delicious, our desserts will please every guest from the youngest to the oldest.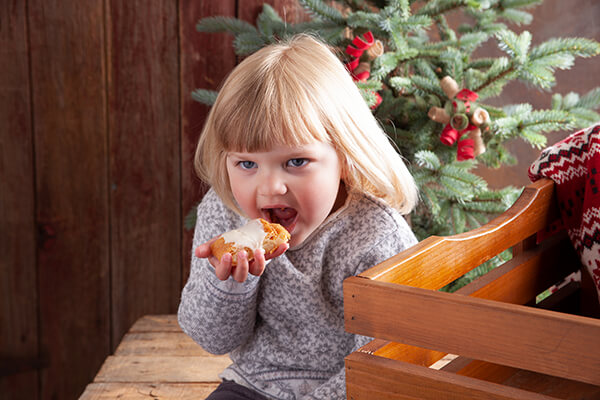 Whether you grew up eating Kringles at Christmas or you've never had one in your life, we're sure that you will be filled with joy after the first bite of one of these famous Danish pastries, which are beloved in Wisconsin and throughout the country. At O&H Danish Bakery, we make our buttery Kringle pastry dough from scratch, using a traditional recipe that is part of our Danish heritage. Over three days, we hand-roll our Kringle dough to create a 36-layer, flaky, flavorful pastry filled with fresh, local ingredients.
During the holidays, we offer more than twenty Kringle flavors with mouth-watering fillings such as raspberry, pecan, apple, almond, Wisconsin cream cheesecake, and turtle. One of our favorite seasonal flavors is the Eggnog Kringle, filled with creamy custard and homemade eggnog and topped with vanilla frosting and gingersnap cookie sprinkles. You might try A Very Danish Christmas Kringle, inspired by the traditional Danish Risalamande dessert, with almond filling mixed with tart Montmorency cherries from Door County, Wisconsin, garnished with a drizzle of icing and almond slivers.
Some of the best holiday desserts in high demand around Christmastime are our beautifully-decorated Christmas cakes. Our Danish layer cakes are traditionally prepared with three layers of creamy filling between four layers of moist cake, all hand-decorated with an array of Christmas motifs. The local favorite is our Christmas Danish Layer Cake with raspberry jam and custard filling between layers of yellow cake covered in our signature buttercream frosting and artfully decorated with gold and silver ornaments and a Merry Christmas message.
For chocolate-lovers, we recommend the Ohhhh Fudge! Layer Cake, made with midnight chocolate cake and fudge pieces inside a silky chocolate mousse filling covered with a layer of chocolate buttercream frosting. With a beautiful hand-painted wreath on top, this cake is sure to be part of your memorable Christmas story this year.
In our experience, the best way to ensure that everyone leaves the Christmas dessert table satisfied is to offer a little bit of everything. You might even add a plate of our fudge and caramel Christmas Present Brownies to round out the selection of Kringles and layer cakes. We're confident that whichever dessert you choose to gift or share at your Christmas celebration, it will be a big hit!
The Danish Way: Christmas Breakfast Ideas for Brunch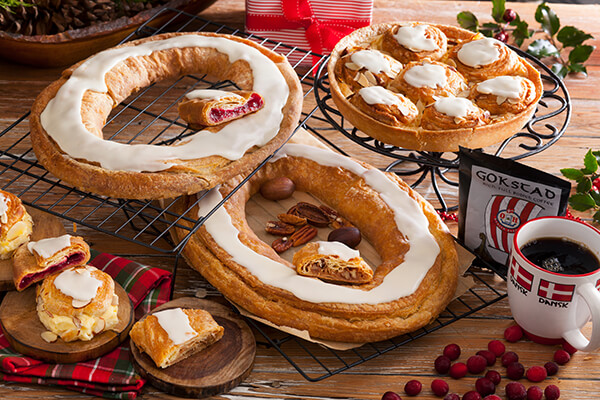 Celebrate the Danish holiday heritage by serving a fresh-baked Kringle and hot coffee on Christmas morning. There's nothing quite as cozy as eating a warm, buttery slice of sweet Kringle while the little ones open their presents beneath the Christmas tree and the snow falls outside, blanketing the world in white (We sometimes wouldn't mind being on the beach somewhere...as long as we had the Kringle & Coffee!). Another favorite Danish Christmas breakfast tradition is the Almond Custard Seven Sisters Coffee Cake, a ring of coffee cake rolls with almond custard inside spiral layers of pastry.
For holiday brunch ideas, we recommend ordering one of our lovely Kringle gift sets such as the Christmas Morning Danish Style package, which includes a cinnamon-rich Pecan Kringle, a tart and tasty Cranberry Kringle, and an Almond Custard Seven Sisters Coffee Cake plus our Gokstad whole-bean fair trade coffee to truly enjoy a holiday breakfast as the Danes do.
For something simpler to serve as a sweet addition to Christmas brunch, try the Almond and Apple Pair a set of favorites that combines the traditional Almond Kringle and the Apple Kringle made with crisp Michigan apples, popular with adults and children alike.
The Proper Way to Serve a Kringle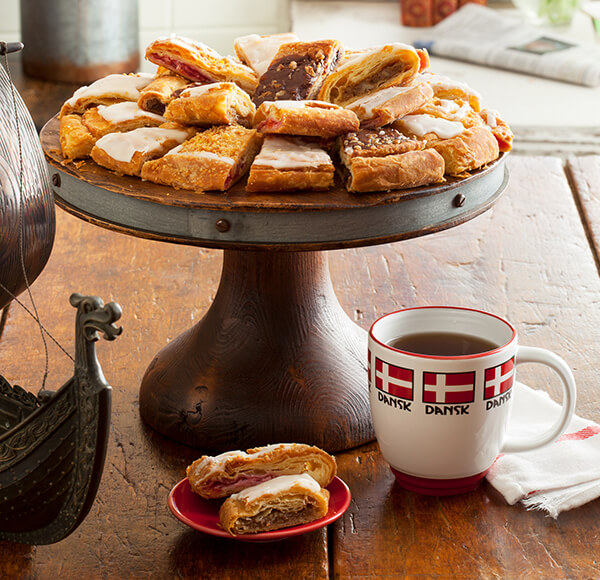 Our Kringles offer about twelve slices, and they can be served at room temperature or warmed in the oven or microwave. We recommend warming your Kringles in an oven set to 350 degrees Fahrenheit for just over three minutes to fill the house with the wonderful aroma of fresh-baked goodness. If you've ordered your Kringle online, be sure to remove the plastic bag before you warm it. If you bought yours ahead of time and froze it, thaw your Kringle for six hours at room temperature or overnight for 12 hours in the refrigerator to enjoy it fresh in the morning.
Want to know the true secret to serving a Danish Kringle the proper way? Serve it with your heartfelt appreciation for those who are enjoying it with you! Share a Kringle with loved ones near and far to show that you truly care, adding the touch of sweetness that everyone yearns for during this time of year. That's the key-spreading your gratitude with a special, simple treat that says, "I hold your happiness close to my heart."
Give the Sweetest Gift of All This Christmas
What better reason to pause and appreciate the small joys of the season than gathering around the table to share delicious Christmas sweets with friends and family? Show the people you love and cherish how special they are to you with scratch-made Danish Kringles, layers cakes, and unique Christmas desserts from O&H Bakery.
When you stop by one of our five Danish bakery locations in Wisconsin, you'll feel the magic as soon as you smell the buttery sweetness of our tasty treats, made fresh every day using the finest ingredients and family recipes passed down for generations. If you live too far away or are too busy this season to come in person, order your sweets online with two-day shipping guaranteed.
May the spirit of giving that marks the holiday season inspire you to give the sweetest gift of all this year with fresh-baked, specialty Christmas desserts that everyone will love and remember for years to come. Order yours soon to make sure you get it in time for your celebrations!