Unique Apple Desserts for Fall
---
By Eric Olesen
Sunday, November 8, 2020
As the air starts to turn crisp and cool, warming up with unique apple desserts sounds even more appealing and delicious. Whether you love the combination of soft cinnamon apple filling with a tender and flaky pastry, a moist cake with generous portions of frosting, or a pie drizzled in caramel sauce, we have a tasty selection of apple desserts for fall that will leave you feeling cozy and in love with the twilight season. While crisp apples taste scrumptious on their own, they taste even better in a fancy apple dessert from our bakery!
Apple Kringle
While it may seem like a simple dessert, the explosion of apple flavor from your first bite will tell you otherwise. We take crisp Michigan apples and sprinkle them with cinnamon for a sweet spice combination that everyone loves. Together with our fabulous scratch-made filling, we surround this apple goodness with our hand-crafted dough that bakes to a rich buttery and flaky pastry. You can warm our Apple Kringle in the oven before serving, and the aroma alone is sure to have your mouth watering in anticipation of your first taste.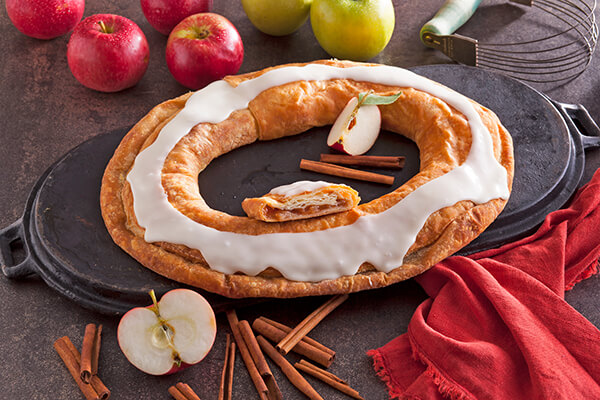 Apple Cinnamon Coffee Cake
Thanksgiving apple desserts will never taste so good after you serve our Apple Cinnamon Coffee Cake to your family and friends. With layers of cinnamon and apple paired with our famous Danish pastry, it will be hard to stop your guests from having a second serving. The crumbly streusel and creamy icing takes this coffee cake to the next level and is the perfect end to any feast, festive or otherwise. Be sure to brew your coffee before serving so you can sit back and relish in the delight of this dessert without interruption.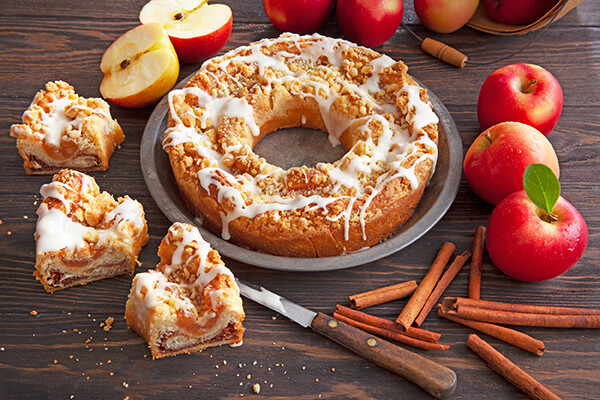 Danish Apple Layer Cake
We prove that more is always better with our unique twist on our homeland's famous apple cake. Our Danish Apple Layer Cake will tantalize your taste buds with its alternating apple cinnamon filling and caramel buttercream sandwiched between our soft apple and spice cake layers. To top off this incredible combination of flavors, we ice and hand decorate the cake with smooth and delicious frosting. When you need apple desserts for a crowd, our layer cake will not disappoint!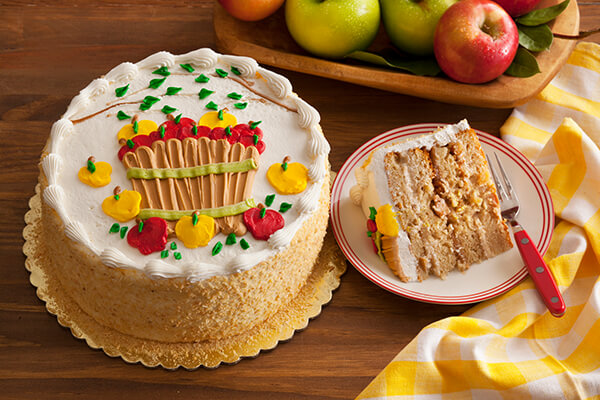 Apple Cinnamon Kringle Pie
This sweet dessert is a combination not to be missed. We take the traditional apple pie and blend it beautifully with our decadent pastry to make our yummy Apple Cinnamon Kringle Pie. Our creation includes layers of buttery sweet cinnamon on pie crust baked in an Apple Kringle for more fruit and spice goodness. The crystal sugar on top gives this unique dessert a gentle crunch and tastes delicious cold or warm and served with your favorite ice cream.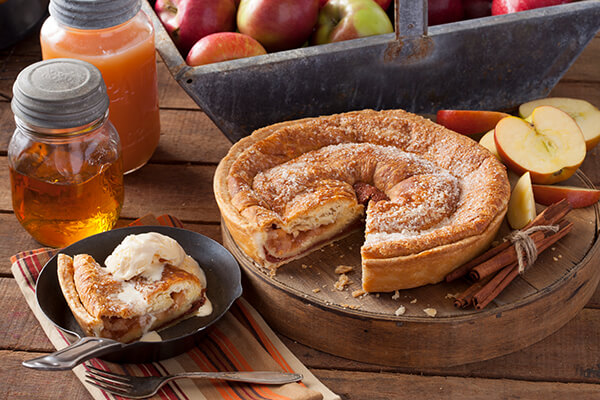 Danish Cinnamon Apple Bread Pudding
For a dessert that is packed full of flavor, you can warm up with our Danish Cinnamon Apple Bread Pudding. You will be impressed with our hand-crafted crust filled with vanilla egg custard-soaked pastry pieces that we top with apples, cinnamon, and sweet butter streusel for satisfying sweet delight. This bread pudding is the perfect excuse to indulge and cover with spoonfuls of caramel or rum sauce.
Order Your Favorite Apple Dessert Online from O&H Danish Bakery
We use the finest ingredients from around the world to create our quality baking, making the perfect gift for family and friends or yourself to enjoy a slice on your coffee break. You can readily order your favorite apple-flavored dessert online from our Danish bakery. We offer a flexible order and shipping service so you can get a yummy baked goods delivery sent directly to your location.